The Coronavirus death toll in Guyana jumped to 241 on Sunday with the passing of two more persons.
Of the 241 persons who have died from the virus since the first case was recorded locally a year ago, 151 were men and that number represents 62.7% of COVID related deaths in Guyana, according to Ministry of Health figures.
A total of 90 women have died from the virus.
Region Four continues to lead the country with the most coronavirus-related deaths. According to the Ministry of Health, 130 of the 241 recorded deaths were persons from the Region 4 area.
The other 111 deaths were spread across the other nine regions, with Region One recording 30 deaths, followed by Region 9 with 21 and Region 7 with 18 deaths. A total of 14 persons from Region 10 have died from Coronavirus.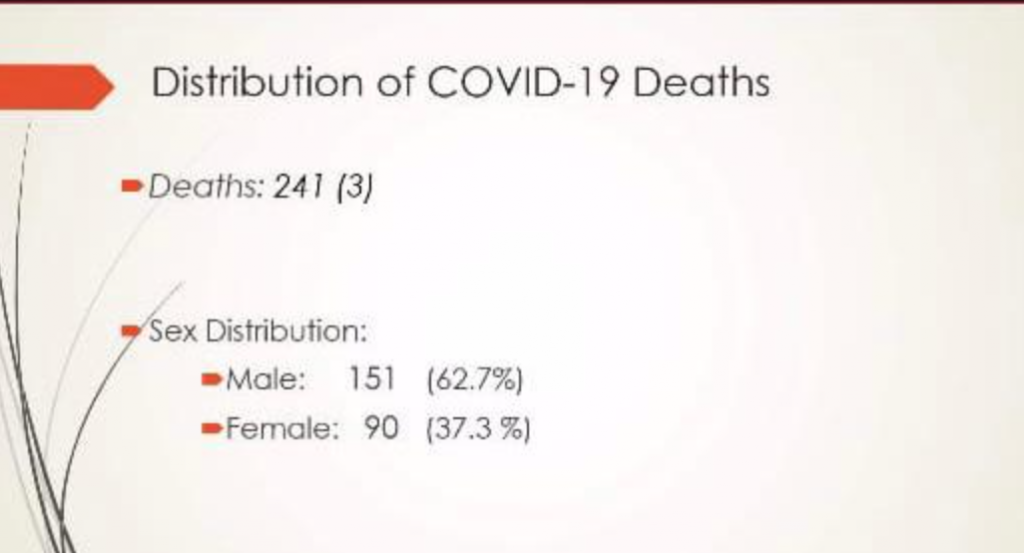 Guyana is currently seeing a surge in new coronavirus cases with almost 300 new cases being recorded in the first three days of the new month, raising fears that one of the new coronavirus variants may be present in the country.
Since the start of the pandemic in March 2020, Guyana has recorded over 10,500 cases with 51% of the cases being men.
Contacted today by News Source, Head of the Men's Affairs Department in the Ministry of Health, Dr. Dennis Bassier said he is not at all surprised that the majority of cases and deaths are men.
According to Dr. Bassier, men have been the ones ignoring the guidelines and health advice the most.
"Men are more outgoing and tend to adhere less to any sort of health advice and when you look at the party and the limes, it's the men outside regardless of everything that they are being told. They are at the races and in the markets without masks and generally caring less than women about their health", Dr. Bassier told News Source.
Dr. Bassier said despite all the efforts of the Ministry of Health to inform and educate persons about the virus, men continue to lead the way in ignoring the advice being offered.
He is calling on persons to consider their families before they ignore the advice of health professionals.
"Think about yourself and your family and nobody knows it until they feel it for themselves and we have to fix this. We still have men going on trips to Region 9 and finding their way over to Brazil, which is seeing over 3000 deaths per day. Everyone needs to simply follow the guidelines and the recommendations", he advised.
The Ministry of Health recently launched a national vaccination drive against coronavirus. Almost 40,000 persons have received their first dose of the vaccine. From Tuesday, more vaccination sites are being set up to appeal to more people to take the jab.