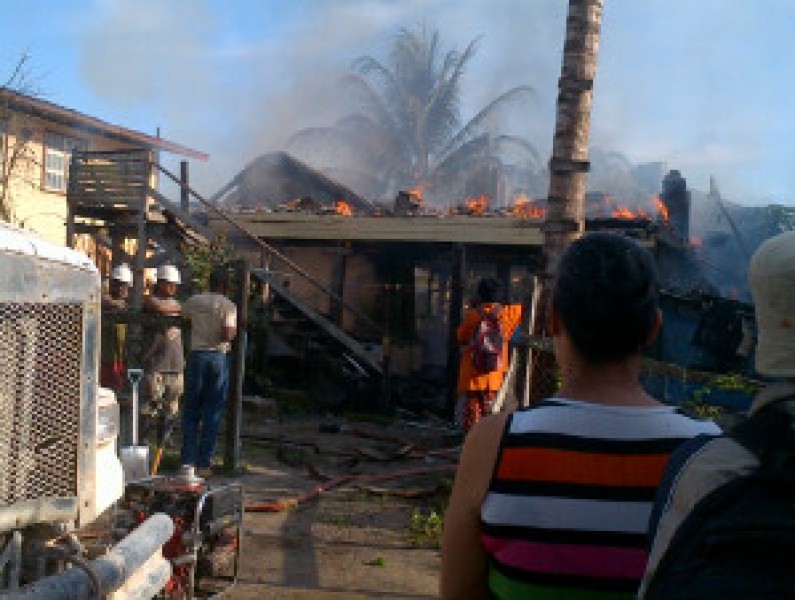 A Linden family is counting their losses but thanking God for life after they managed to escape from their burning home at Determa Street at Mackenzie Linden  on Saturday morning.
The entire house was gutted. The family of five managed to get out of the blaze after the 9-year-old son woke his parents just after 7 o'clock to alert them that there was a fire in one of the rooms in the house. The boy's mother, Roushell Bentick told News Source that her son came calling out "mommy, mommy, daddy there is a fire". She said by the time they jumped out of their sleep, the fire had already engulfed the entire middle room where the 9-year-old had been sleeping.
The family was forced to run out of the house and the fire quickly ripped through the wooden building. The woman explained that she has no idea how the fire got started.
She said there was no power outage at the time but said that the family would usually light mosquito coils in the evening in the different rooms but she was doubtful that it could have lasted to the morning.
She said it appeared as though her son may have been awakened by the fire since he had a small burn to some of his fingers. The Guyana Fire Service was able to contain the blaze and prevent it from spreading to the nearby houses. An investigation has been launched.