One man band performer, 53-year-old Daniel Melbourne who is known as "Love Vibrations" appeared in Court today and was slapped with six charges related to the death of construction worker Reonol Williams, who was hit down by a speeding car on the 23rd May.
In Court, Melbourne was charged with causing the death of Williams by dangerous driving, failure to report an accident, failure to render assistance after an accident, failure to produce the vehicle for examination, giving false information to the police, and attempting to obstruct the course of justice.
He pleaded not guilty to the charges.
He was refused bail on the charges and remanded to jail, despite the pleadings of his Attorney Patrice Henry.
The matter was called at the Vigilance Magistrates' Court before Magistrate Fabayo Azore.
The death of the construction worker, Reonol Williams and the removal of his body from the scene and the dumping of the body in an isolated area at Coldigen has triggered public anger.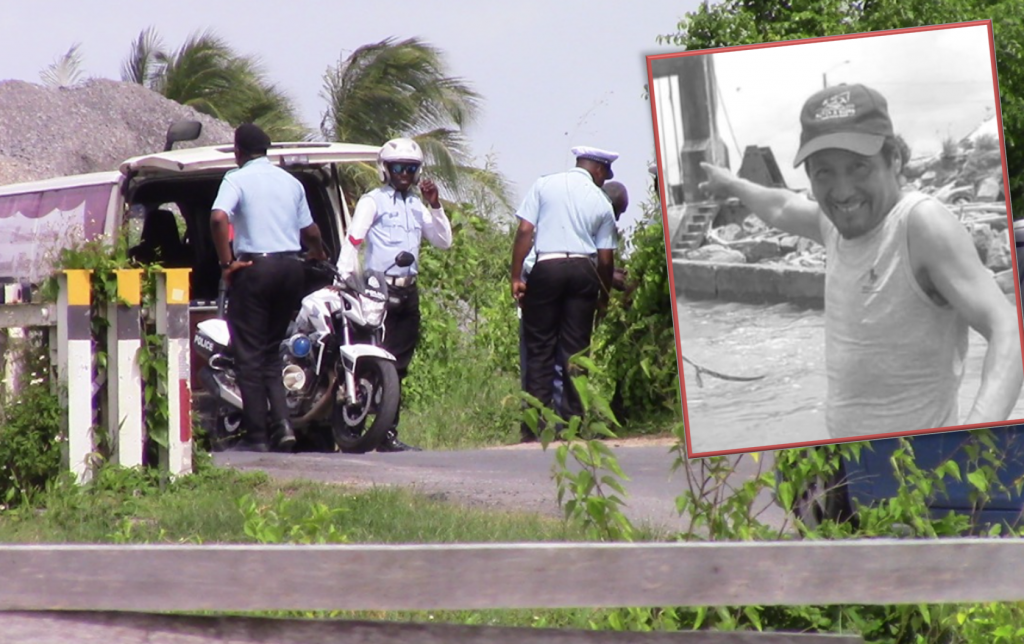 The construction worker, Reonol Williams was walking along the roadway at Enmore with a friend when he was struck down by the speeding car with registration number PAB 2552.  
According to eyewitnesses, the driver of the car stopped and picked up the victim's body, claiming that he was taking him to the hospital.
But Williams was never taken to any hospital and his relatives spent two weeks searching for his body.
After being identified by the friend who was with Williams at the time of the accident, Melbourne was arrested but later released as he claimed that his car had been stolen.
But the friend of the dead man maintained that Melbourne was the same driver who picked up the body and left the scene.
 Investigators rearrested Melbourne on Monday, two weeks after the incident, and Police sources said information was provided to them about the area where the body was dumped.
On Tuesday afternoon, Police investigators cordoned off an isolated area just off the railway embankment at Coldigen and it was there that they found the decomposing body of the 50-year-old accident victim.
A post-mortem found that Williams died from multiple injuries caused by a vehicular accident.
It is still unclear whether Williams was still alive when the driver drove off from the accident scene with his body. 
The accused will return to Court on the 22nd July for the continuation of the matter.