President David Granger on Wednesday swore in the members of the Advisory Council on the Prerogative of Mercy, giving them the charge that they must lead with the teachings of the spirit of mercy and compassion.
The newly sworn in members of the council are Dr. Carl Hanoman, Justice Duke Pollard, Former Minister of Information; Mrs. Yvonne Harewood- Benn, Ms. Merle Mendonca and Justice James Patterson.
The ceremony was held at the Ministry of the Presidency and had in attendance, the Chairman of the Council, Attorney General and Minister of Legal Affairs, Mr. Basil Williams.
Article 188 of the Constitution of Guyana empowers the President to grant to convicted persons, a state pardon, either conditionally or otherwise or grant a respite of the execution of the punishment imposed or substitute a less severe punishment.
The Council, under Article 189, is therefore mandated to advise the President on the aforementioned. The Prerogative of Mercy is usually exercised in response to a petition from a convicted person or someone acting on their behalf and by constitutional convention on advice from the relevant Government Minister.
President Granger, in delivering his charge, first thanked the members for coming forward to take up the cloak of responsibility, which is associated with such an office, especially, he said, at a time when public service seems to be on the decline.
"Today I am grateful to those eminent persons, who have come forward to carry out this thankless responsibility I would say. I am very grateful because… for citizens to come forward to do work of this nature, it is very heartening and very encouraging and I hope that for years to come, younger people would be able to follow in their example," he said.
Stating that he expects them to be fearless in the execution of their duties and be prepared to accept criticisms given the nature of the task, the President said that they must also endeavour to use their offices to share the message of mercy and compassion, something he said, which seems to be lacking in the society today.
"We need to transform our political culture from this 'dog eat dog' mind-set that some people seem to have adopted over the years. We need to be more compassionate, more merciful and if you have a president, who is not compassionate or capable of extending mercy, what sort of country are we living in? What sort of country you want our children to grow up in… You will be criticised every day but you must be prepared to bring your culture, your values, your religious faith, your beliefs, your spirit of compassion into the functioning of this advisory council and let those values permeate society…," he said.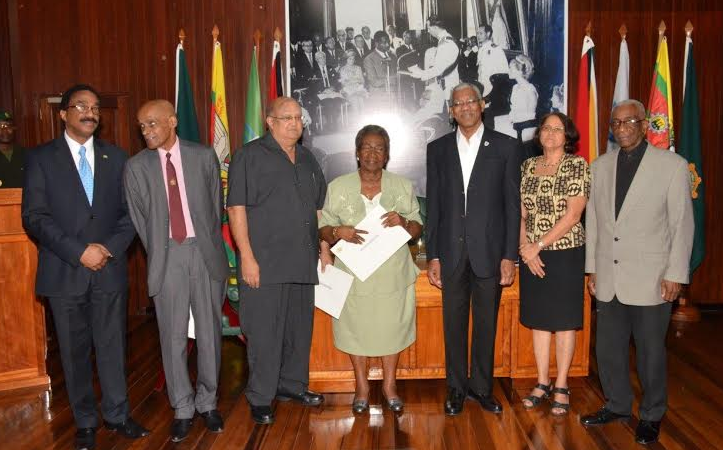 He further noted that they must especially look at the youth population and be compassionate and helpful to those youngsters who have found themselves at the wrong side of the law.
"…Let our youngsters in school understand that they can be friendly with teachers; that they are not at war. Let political parties realise that they don't have to fight each other… This is the spirit I would want to feel that this Council would spread, that we are not at war with each other and that were we to share greater compassion to persons, who might have fallen foul to the law. To youngsters, who might have committed some offence, give them a break. Give them a second chance," President Granger charged.
The President noted that the Constitution has prescribed the establishment of the Council and it is his intention to ensure that the Council's advice is always given utmost consideration.
"The exercise of the Prerogative of Mercy is not unfettered and under the Constitution, everything that I have done for the last 11 months has been in accordance with the Constitution. The powers I exercise under this part will be determined and guided by the advice of the Council. I don't have the opportunity to behave in an arbitrary or capricious manner but in Guyana we need that quality of mercy," President Granger said (MOTP)