The Georgetown Chamber of Commerce and Industry (GCCI) is partnering with the Society Against Sexual Orientation Discrimination (SASOD) to develop and launch a comprehensive anti-discrimination workplace policy which includes sexual orientation and gender identity as prohibited grounds.
GCCI President, Clinton Urling, made the announcement in his opening remarks at a recent seminar which focused on "Business and Human Rights: Tackling Workplace Discrimination". It was held on Wednesday, November 13, was hosted by GCCI in collaboration with SASOD.
The seminar targeted sector-leading commercial entities that are members of the GCCI and its allied agencies. It sought to sensitize managers and business owners on issues relating to stigma, discrimination and human rights violations based on sexual orientation and gender identity in the workplace, with the view of enhancing their understanding of the issues by discussing how they can contribute to promoting equality in the workplace, and nationwide in Guyana.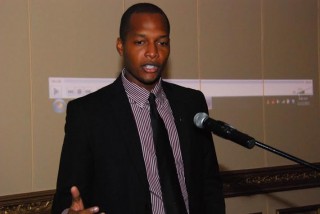 The seminar also discussed the business case for respecting human rights, demonstrating how work environments which include and respect sexual and gender diversity enhance business efficiency and foster good psycho-social health of their employees; all of which increases their productivity.
In his opening remarks, Mr. Urling first lauded SASOD for their stellar advocacy work over the past ten years which has "certainly informed our citizenry, changed perceptions and attitudes of bigotry and intolerance and have resulted in actions to end discrimination based on sexual orientation and gender identity by policy-makers and other stakeholders."
 He further stated that now it is the private sector's turn to get involved, as such he urged his colleagues to grasp as much as possible from the seminar and to return to their various entities and start their own internal discussions on developing, or in some cases, strengthening company policies, to eliminate all forms of discrimination, including sexual orientation and gender identity.
Mr. Urling also remarked on how urgent it is for our own policy-makers in Guyana to advance legislation that would end workers discrimination and ensure that employers cannot fire or refuse to hire someone based on his or her sexual orientation or gender identity. "It will not be an easy battle but one in which we have to advance to ensure that the fundamental human rights of all Guyanese are protected. In all these situations it took adaptive changes to effect this. The citizens and people were part of the problem and changing their attitudes and beliefs were key to enacting the necessary legislation. That is the important role of SASOD and what this seminar seeks to do," Mr. Urling added.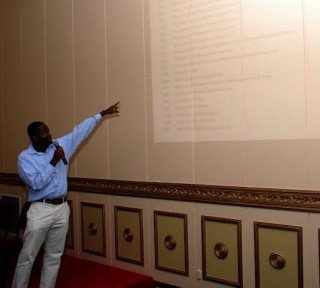 The presenters at the seminar were Zenita Nicholson, SASOD Secretary, who focused on the business efficacy for respecting human rights in the workplace; and Joel Simpson, SASOD Co-Chair, who deliberated on the current legal framework as it relates to human rights and workplace equality in Guyana.
Facilitated by communications specialist and business executive, Ms. Catherine Hughes, M.P., the seminar discussed key issues, including the importance of workplace polices that include protection from discrimination for lesbian, gay, bisexual and transgender (LGBT) employees, how managers deal with homophobic and transphobic discrimination in the workplace; and externally, how businesses treat their LGBT customers and clients. In closing the plenary discussions, Ms. Hughes, M.P., urged the participants to utilize the resources from the seminar to advance workplace equality in their entities.
Another moving segment of the seminar was the first screening of "Sade' Story," a new video produced by SASOD in which Guyanese transgender fashion designer, Sade Richardson, candidly shares how her right to work and other basic rights are inhibited by the everyday transphobic discrimination she faces.
After the video screening, Ms. Hughes, M.P., reminded participants that SASOD – in its mission to promote equality and justice for all Guyanese and eliminate discrimination based on sexuality, gender, sexual orientation, gender identity and gender expression in Guyana – stands ready and willing to support organisations to develop comprehensive anti-discrimination policies and promote workplace equality.