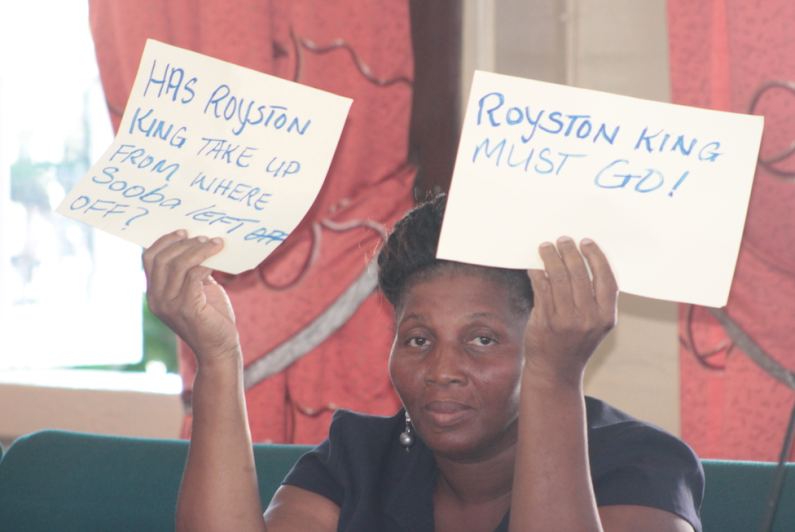 APNU+AFC Councillor Andrea Marks staged a silent protest with two signs during Tuesday's Satutory Meeting of the Georgetown City Council, calling for the firing of Town Clerk, Royston King.
Marks was the only Councillor issuing the call as she questioned whether King had now taken over in behaviour from former Town Clerk, Carol Sooba.
The protest by Councillor Marks came in response to a recent move by the Town Clerk to temporarily clear a section of Robb Street of vendors to facilitate a cleaning exercise. The vendors have since returned to the spot after meeting with the Town Clerk and agreeing to take better care of the environment.
Throughout the meeting, Marks held her protest signs up, but City Mayor Patricia Chase-Green, urged Councilors to read and understand the Municipal and District Council's Act Chapter 28:01, before making certain calls.
The Mayor said she is worried that many Councilors still do not understand the law that governs the City Council and how certain issues ought to be addressed.
"The irresponsible remarks that this Town Clerk should go are probably being made because nobody is reading Chapter 28:01. And you need to read 28:01 which gives the Town Clerk and the Clerk of Markets certain responsibilities. And so when we as Councilors here who are representing our Constituency do not know what the law says, then we find ourselves in a fix because we are saying what our minds want us to say", the Mayor said.
The Mayor cautioned the Councillors about being too sympathetic towards the vendors who might be breaking the laws of the city. She said the Council understands the plight of many of them and does not intend to put them out of business, but there needs to be some standards and order as street vending continues to pop up across the city.
Town Clerk Royston King, during the meeting, sought to explain the decision to temporarily move the vendors from the area.
He said the garbage pile up did not allow for a healthy environment and many of the vendors were selling produce over drains and gutters and that was not allowed.
Additionally, some of them sprinkled water on their vegetables that came from an unknown source and had a bad smell.  He told the Council that the decision was in the best interest of city residents and he is grateful that the Fire Service assisted in sanitizing the area.
Meanwhile, Mayor Chase-Green also told the meeting that Councillors are still to come up with a suitable location for vendors who are currently being housed temporarily on a Hadfield Street private property behind Parliament building. She said the agreement for them being housed at the location expires in December, and the Council must find a new location at the earliest possible time.