The recently appointed acting Town Clerk of the City of Georgetown, Candace Nelson, is accusing the Mayor and some of the Councilors on the Georgetown City Council of creating a hostile work environment with their regular attacks on her.
Ms. Nelson called a press conference this morning to complain about the treatment she continues to receive at the Georgetown City Council. She said she now intends to take the matters and her complaints outside of City Hall.
"At statutory and other meetings, it now appears to be the norm for Councillors to call me out of my name, like puppet and PPP installed town clerk and stupid, and other names, particularly by a few male councilors who appear by their utterances and actions to as male chauvinists. I am consistently humiliated at those meetings in many other ways. It is so bad that on occasions, I have had cause to ask for protection of the Chair, the Mayor. My requests have largely been ignored", the Town Clerk said.
The Acting Town Clerk said she has in the past few months since her appointment has had cause to question some of the instructions and orders handed down to her by the City Council. She accused the Council of making decisions that are not properly vetted and may have legal implications.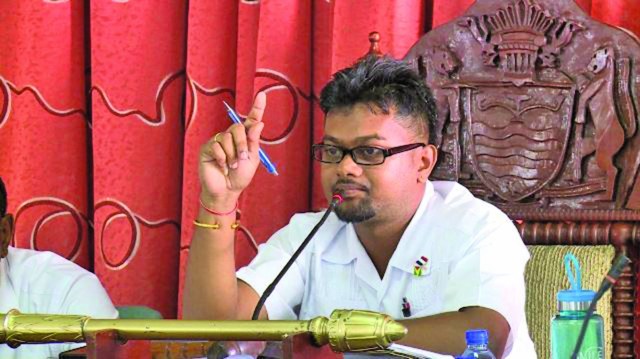 She said there have been decisions made by the Court regarding issues that the Court's decisions have not been followed by the Council.
The Town Clerk said when it comes to some issues, the Georgetown City Council could be seen as double-dealing and not taking a well-grounded position.
She highlighted an issue of the Council not wanting the Town Clerk to issue compliance and sanitization certificates to one company despite a Court order but being willing to present the same documents to another company although the other company has outstanding taxes for the Council.
The Town Clerk said the City Council has found itself trying to make administrative decisions more than policy decisions.
Since the appointment of the Acting Town Clerk, the Mayor and a number of the Councillors have accused her of going beyond her job and making decisions outside of the Council.
The tension between the Town Clerk and the Mayor and Councilors is nothing new at the Georgetown City Council. Over the years, different Councils and Town Clerks have shared similar tense relations.