Supporters of the APNU+AFC coalition joined some Government Minsters this midday in a protest to press the Guyana Elections Commission to ensure there is registration before the next national elections.
Police barriers were once again thrown up close to the Guyana Elections Commission building to keep the protesters away. But the protest went on with many of those gathered indicating that the Guyana Elections Commission needs to have house to house registration before moving ahead with the elections.
Chairperson of the People's National Congress, Health Minister Volda Lawrence, said the concerns of youths cannot be dismissed. She said there must be registration and claims and objections before elections are called.  The People's National Congress is the largest party in the coalition.
According to Lawrence, there are a number of youths who are of the voting age but have not yet been registered and they should be allowed to be properly registered to cast their vote.
Another Government Minister and PNC Member, Simona Broomes, said she has been in several communities over the past months working with youths on various community projects. She said a number of them are not registered and the Elections Commission should ensure they are not disenfranchised.
"Today, I came here with about two hundred persons and we didn't bring anybody here in a bus, we walked, and out of that number we have with no ID Cards.  We will not sit as a Government and see your constitutional rights not being respected", Broomes said.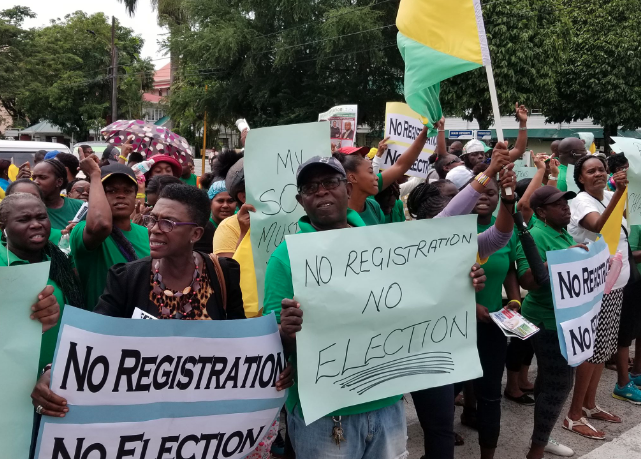 Alliance For Change Chairman and Public Security Minister, Khemraj Ramjattan said he believes there is a need for house-to-house registration before the next elections.
"I would prefer to have a house to house registration. It is of course the decision of GECOM to ensure that everybody who is suppose to be enfranchised, be enfranchised. And since we set aside $3 Billion of that money for house to house, then we should have it".
PNC Treasurer and Communities Minister, Ronald Bulkan, said he is convinced that the list is bloated. He said there is need for sanitation of the list.
Questioned about the same list being used for the recent Local Government Elections, Bulkan reminded that the Local Government Elections dealt with several elections and therefore there was a list for each election in a particular area.  He said it should not be confused with a national list of electors.
Other coalition executive members said that they just want to ensure that persons are not disenfranchised for the elections.
The Guyana Elections Commission is still to pronounce on a timeline for regional and national elections.  However, the Commission's Secretariat is looking at a date in July as part of one scenario for possible early elections.