Three weeks after it vanished without a trace just after takeoff from Mahdia, the Guyana Civil Aviation Authority has decided to call off its search for the missing Air Services Limited  Britten Norman Islander aircraft and the two persons who were on board.
In a statement on Monday evening, the Ministry of Transport announced that it has been forced to end the search in the densely forested Region Eight area for the small aircraft, its pilot and cargo handler.
The airplane bearing registration number, 8R-GHE disappeared on a routine shuttle operation from Mahdia to Karisparu on 28th December 2014 with 27-year-old pilot, Captain Nicky Yakesh Persaud, and 51-year-old cargo handler David Bisnauth on board.
Just after the small plane was reported to have lost contact with air traffic control,  five aircraft conducted reconnaissance over the Mahdia, Kaietuer, Karisparu and Taffy areas. The search teams followed the most probable track that the aircraft would have flown, according to the Transport Ministry.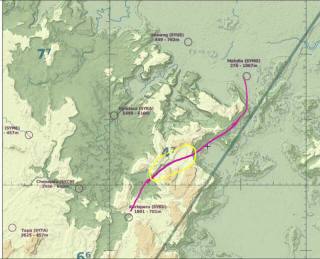 Three helicopters were later deployed along with an ASL Cessna Caravan and eleven (11) GDF Special Forces Officers on the same day.
"The Rescue Coordination Centre was established and supported by the Honorable Minister Benn, Minister of Public Works, Maj. Mike Charles, Captain G. Gouveia along with several agencies including, GDF, Guyana Police Force, GGMC, CDC, Ministry of Health, Guyana Forestry Commission, Air Services Ltd, CJIAC, Civil Aviation Department – Suriname, CGX and the GCAA, the Ministry statement said.
According to a release from the Transport Ministry, during the 21 days of search operations, extensive searches were conducted by three (3)helicopters and two (2) fixed winged aircraft from a base established at Mahdia, to locations identified as high probability areas determined as a result of sightings and more than twenty interviews with miners, villagers and relatives.
The Ministry said "over two hundred and thirty (230) hours were flown by the helicopters and fixed winged aircraft over the Blackwater Creek basin, North Fork, Konawaruk River, Ebini, Eagle, Mowasi, Glendor mountains, Kurungiku mountain range including "Toucan Face" "Twin Towers" and Toucan Valley. The helicopters conducted multiple sorties over the Blackwater Creek and North Fork areas including locations where damaged trees and crows were observed."
Aviation officials have explained that it would almost be impossible to locate the small aircraft in the thick forest in the area. Family members of the two men have been informed of the end of the search operations.
(Photo Credit: Captain Gerry Gouveia)
Filed: 19th January, 2015