Several pilots, engineers, Roraima Airways staff and other members of the local aviation community gathered Friday afternoon on the side of the runway at the Cheddi Jagan Airport to receive the body and pay their respect to fallen Guyanese pilot, Captain Alvin Clarke.
Captain Clarke passed away last Saturday in Canada as he lost his fight against cancer. He had travelled to Canada a few weeks earlier to begin his treatment and had promised to return to Guyana and back to the skies that he truly loved to fly.
Moments after his remains arrived on a Fly Jamaica flight, local pilots and engineers who had flown from Ogle to Timehri, were joined on the runway by family members of the late pilot, Roraima airways staffers and airport staffers. They formed an Aviation Guard of Honour as the remains were shuttled from the Fly Jamaica jet to the Jags Aviation Sky Truck. Family members fought back tears as some of Captain Clarke's former work mates gazed on in disbelief.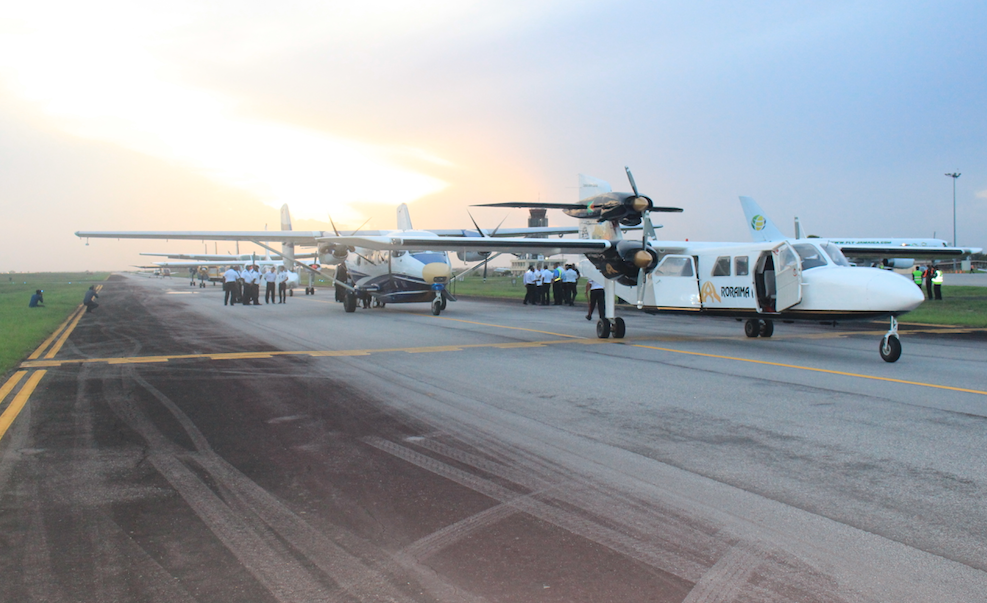 Led by Roraima's newest aircraft, which has been named Captain Alvin Clarke, six small planes along with one of the GDF's helicopters formed a line on the runway and they slowly made their take off for Ogle one after each other, accompanying the remains, as the sun went down on what was a long day for many.
The planes flew above the Demerara River together and over the city as evening came, in tribute to the late pilot who had flown the same route hundreds of times before. This was their way of paying tribute, the aviation way.
Once on the ground at Ogle, aviation workers there formed another guard of honour as the family received the body.
Before joining the private sector as the Chief Pilot for Roraima Airways, Captain Clarke served as an officer and pilot in the Guyana Defence Force. He gained 'Veteran Medivac Pilot' status over the years belting more than Thirteen thousand (13,000) hours of Flight time.
He will be remembered as the "go to" pilot whenever there was a late night emergency in Guyana's interior region.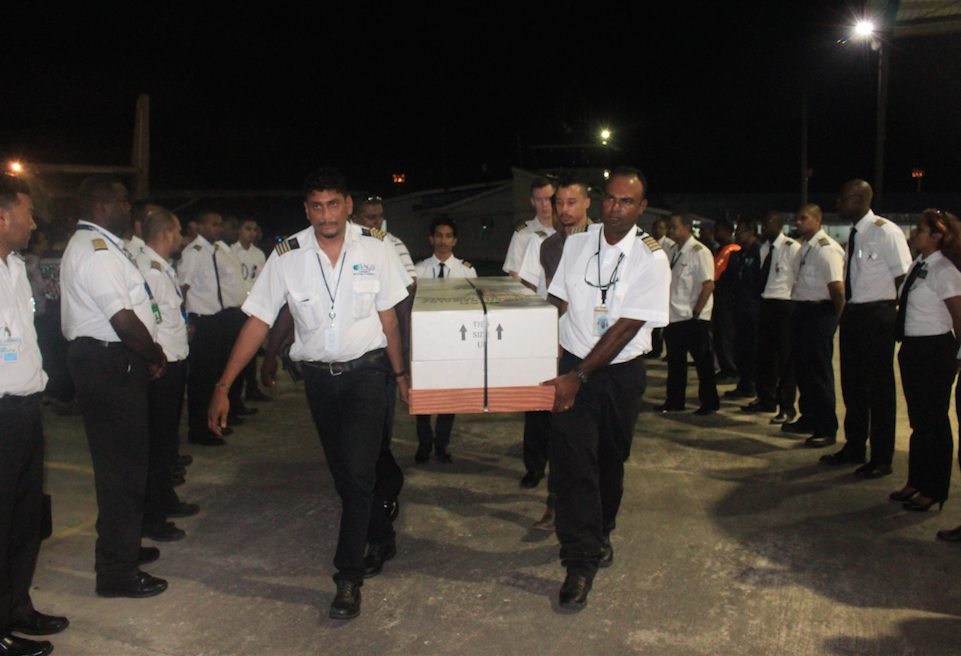 One of his closest friends, Captain Gerry Gouveia of Roraima Airways reflected on Captain Clarke as "the pilot's pilot". He said he was a disciplined person who could always be counted on to take charge of any operation and complete it flawlessly.
Gouveia said Clarke was also a very private man, and though he might not have wanted the sort of attention that came with the tributes at his passing, he deserved it.  Captain Gouveia and others in the aviation industry are hoping that a national award will be conferred on the late pilot, for his outstanding service to Guyana over the years.
The body of Captain Alvin Clarke will be laid to rest on Saturday.
Listen to Captain Gouveia's reflections on the life of Capt. Alvin Clarke