President David Granger has announced that Bartica will officially attain township on April 23, 2016 in keeping with a promise he made during his campaign in the lead up to the May 11 elections.
The President's declaration comes 178 years after an Ordinance was passed by the Colonial Government of that time to establish Bartica as a Town.
"I made a promise when I was campaigning and I promised that Bartica will become a town before the 26 May, 2016, the 50th Independence anniversary, in fact Bartica will be a town on the 23rd April 2016," he told Barticians on Sunday.
The President was at the time hosting a public meeting in the Region 7 community along with Minister of Public Health, Dr. George Norton and Minister within the Ministry of Social Protection Simona Broomes.
Granger explained that it was on April 23, 178 years ago that the ordinance was made by the colonial government which his government intends to make a reality.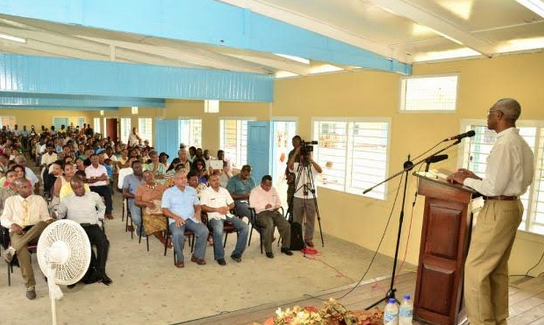 The President believes however that work needs to be done immediately to prepare Bartica for this advancement and charged residents to help him fulfill his dream by making Bartica the first green town in Guyana.
 "I would like you to use the next ten months to make Bartica the most beautiful town in the entire country. There are economic reasons, there are health reasons for that, there are political, social and cultural reasons for that," he said.
The President pleaded for behavioral change and subsequently explain that "by a green town I mean that you must look at your energy, stop bringing in diesel and gasoline, let us use wind and sun power…but we have to adopt green energy and Bartica must be Guyana's first green town."
The President sternly advised against the use of Styrofoam and plastic.
 "Let us ensure that energy generation is sustainable, let us ensure that our schools, our hospitals, our clinics, and our homes use green energy, sustainable renewable green energy from sunlight, from the wind."
He acknowledged that Bartica will need to renew itself and sustain itself even as he called for an end to be put to the "predatory and rapacious attitude to the exploitation of our resources."
The Head of State said a collective effort would be needed to bring Bartica to what it should be as a town in every aspect.
(Bartica Photo by Roup Hardowar)