(NY DAILY NEWS) The partially dismembered body found on Long Island has the same tattoo as the one a missing mom from Brooklyn is reported to have, according to a police source.
Authorities, however, said forensic tests have not yet determined the identity of the woman found in a weed-strewn Long Island parking lot.
As police investigate, relatives of 27-year-old Guyanese, Chinelle Latoya Brown — missing from her Brownsville home since Saturday — believe she is gone.
"Right now, we are sad and broken-hearted at losing our beloved sister so soon and so tragic," said a sister, who asked her name not be published. "My sister was a decent and hard-working human being who did not deserve to die this way."
Dale Brown, speaking from his home in Guyana, said his wife, the mother of their four children, moved to Brooklyn a year ago and was working at the Century 21 department store in lower Manhattan.
The plan, he said, was for him to move to the city with their kids after he got his paperwork in order.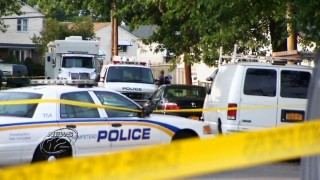 His wife, he said, rented a room on Sumpter St.
He last spoke to her on Saturday and reported her missing when he could no longer reach her. Dale Brown said he learned from another tenant that his wife had argued with the landlord about electricity and the landlord had hit her.
The landlord, whose name is being withheld because she has not been charged with a crime, suggested to the Daily News that she was defending herself.
"If somebody hit me, I'd hit her back," the landlord said.
Asked what happened to Brown, she yelled, "Stop assuming! Stop assuming!"
Two police sources confirmed the landlord and another person are considered people of interest in the case.
On Tuesday morning, two people walking to the Fire Island ferry found a partially dismembered body in a Bay Shore, Long Island, parking lot.
A "distinctive" tattoo on the woman's torso matches one on Brown's body, based on what her husband told the NYPD, the first cop source said.
The Suffolk County Police Department said homicide detectives are investigating the case.
Detectives are awaiting the results of forensic tests that would identify the woman and also determine if a severed arm found on the front lawn of a home in Hempstead on Wednesday belongs to the body found in Bay Shore.
The Nassau County Police Department, which has the case of the severed arm, said forensic tests are still being conducted.
Suffolk police had said Tuesday they were investigating the discovery of the woman's body, which was found in a weed-strewn lot. Detective Lt. Kevin Beyrer said two passersby called police after seeing the body as they walked to the ferry at about 6:50 a.m.
Police had no comment on the approximate age of the victim.
Beyrer said Tuesday that authorities were looking into missing-persons reports.