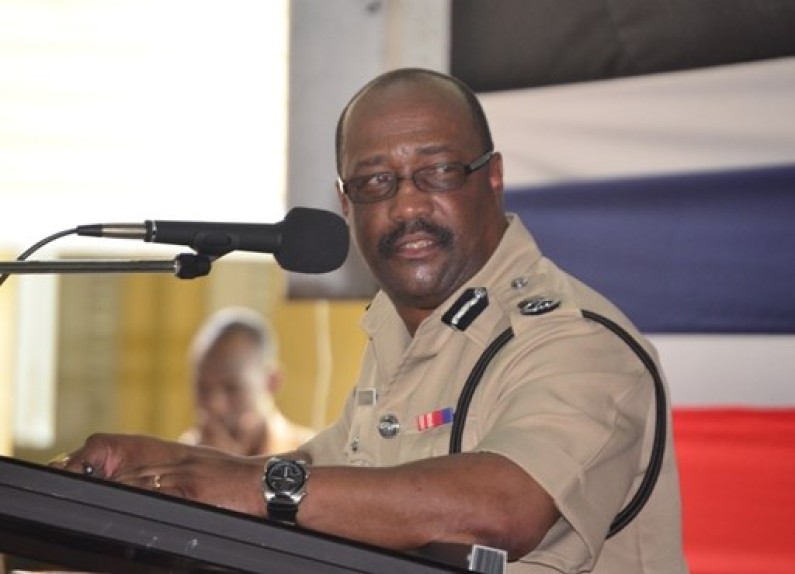 With the Guyana Police Force being pressed by the business community to come up with a strategy that will effectively tackle the crime problem, Commissioner of Police Leroy Brumell believes members of the business community also need to become more security conscious.
Speaking at the Police Force's annual award ceremony on Wednesday morning at Police Headquarters, the Commissioner said crime cannot be stopped but it could be suppressed and the Guyana Police Force "cannot do it alone".
Mr. Brummel said whenever there is an upsurge in criminal activity, "everybody turn a Commissioner of Police and everybody would start to say what the force must do and what it must not do."
He said persons should be reminded that when it comes to dealing with crime and criminal activities the Guyana Police Force is the number one agency to fight crime. "If stakeholders don't want to do it, we will do it. We will continue to fight it, we will continue to fight crime", Mr. Brumell said.
He however, noted that although the Guyana Police Force is the leading agency when it comes to issues of law and order, it must be made clear that "we alone cannot handle it"
The Commissioner of Police told those gathered at the award ceremony that citizens must also realise that it is their duty to protect their home and family. "It is my duty to protect my family and I will do all I can to protect my family although we have the law enforcement, I will do the best I can to protect", the Top Cop said. He added that citizens should follow that lead.
On Monday, a number of businesses in Georgetown were attacked and robbed and in one of those incidents, a customer in a store was shot dead. Two suspected bandits were also shot and are in police custody. Mr. Brumell said business owners need to become more "conscious" of what is happening around them and they must also pay attention to staff members. The Commissioner said he believes that in a number of the robbery cases, there might have been "an inside job".
He called on business owners to "look at staff seriously since there might be some inside collusion taking place". According to the Police Commissioner, he himself has been taking extra precautions when he is out because of the crime situation in the country.
Mr. Brumell said "anything that I do, I try to be conscious and I urge everyone to be conscious of what is happening around you. You go in a place and you see some men whispering and talking funny, I get suspicious and I Leave". He said once persons take his advice, they would live long.
The Police Force has been heavily criticised over the current crime situation in the country. The Force is currently being restructured as part of police reform project. The Commissioner said the Force does not intend to run away from criminals and will take on criminals and fire at them if policemen come under attack.
The Police Force has indicated that Guyana is seeing an upsurge in gun crimes and robberies this year when compared to the same period in 2012.
(Filed: 17th July, 2013)