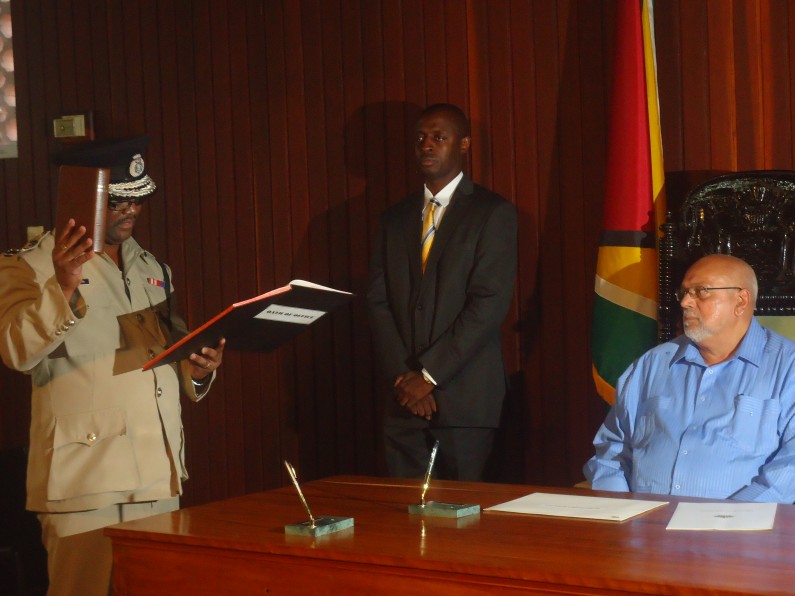 Fighting back tears, newly sworn in Police Commissioner Leroy Brumell has promised to continue serving and protecting the Guyanese people even in the face of criticism.
Mr. Brumell on Monday morning took the oath of office as Commissioner of Police, less than one week after the President and the Leader of the Opposition consulted on the appointment and gave the all clear to Brummel being confirmed in the position that he had been acting in, since 2012.
The Commissioner said when he joined the Guyana Police Force 36 years ago, his dream was to one day become the Commissioner of Police. He said he is now living that dream. "I took the oath to serve and protect the citizens of this country almost 36 years ago with the ambition to one day become the Commissioner of Police of the Guyana Police Force. Today that dream has become a reality", the Commissioner noted.
He said his journey to the top has been a "long hard road", but he has no regrets about his journey. According to the Commissioner, the Police Force has its challenges but he recommits to Guyanese that "I Leroy Brumell will do all within my power in consultation with key stakeholders, to serve and protect and to take back our streets and communities from the criminals. No man is an island but in short I ask for support".
The Commissioner broke down in tears and had to be supported by his wife as he said that he is open to criticism but will see them all in a constructive way as he moves to develop and build the Guyana Police Force.
President Donald Ramotar congratulated the Commissioner on his appointment and said he had always earmarked him for the position since Commissioner Henry Greene was forced to leave office.
Commissioner Brummel later told News Source that his top priority would be the modernizing of the Guyana Police Force. He said the Force has five priority areas that he intends to give more focus. Mr. Brummel said the development of ranks and the operations of the Guyana Police Force are also areas that is on his priority list.
The Commissioner gets his confirmation at a time when there is an increase in criminal activity and concerns about the way the Police Force was doing its work. Brumell said the Guyana Police Force will be toughening up its fight on crime.