Opposition Leader and PPP General Secretary, Bharrat Jagdeo, today declared his full opposition to the plan by the Berbice Bridge Company to increase its tolls from the 12th November.
Like the government, Mr. Jagdeo said the announced increases by the company is "unconscionable", but he also described it as unlawful and said there is nothing in the Bridge company contract that allows for such high increases.
The Berbice Bridge company wants to increase the tolls to cross the bridge by more than 300% for various types of vehicles.
The company has indicated that it has no choice but to raise the tolls because of its current financial status. The Government has said it is against any such move and will not support the toll increases. Still, the Bridge company wants to be move ahead with its plans.
Today, the Opposition Leader explained that under the Law, the Minister of Public Infrastructure would have to approve of any increases, so he does not understands why the Government wants to seek advice on the Bridge Company's announcement when it could simply not sign onto the increases.
"The People's Progressive Party is opposed to any toll increase at this time or anytime in the future…the increase is not part of the contract".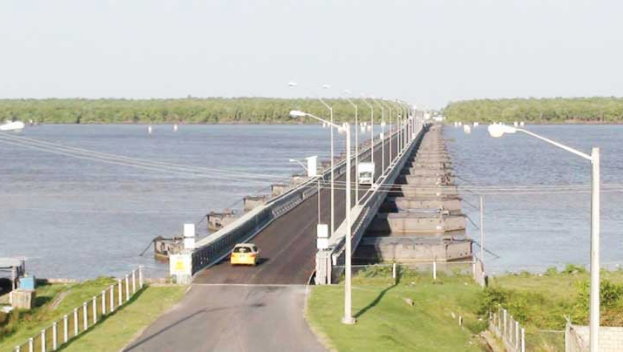 He said under the toll structure for the bridge in the contract, there should not be any high increases since such increases are not catered for anywhere in the contract.
The Opposition Leader said he believes there is more to the recent announcement by the Bridge company and he believes its political, especially with local government elections coming.
Jagdeo said it could be a case where the Government is setting itself to save the day and appear like a knight in shining armour to offer relief by ensuring the tolls do not go up.
The contract for the Berbice river bridge was signed back in 2006 when  Jagdeo was President.  He maintains that the deal was a good one, although there was a lot of criticism against it back then. While saying that no public money was used, he is of the view that the partnership was good for Guyana and the investment by the National Insurance Scheme in the project is one that offered relief the citizens of Berbice.
The Opposition Leader called on the Government to release the contract, saying that by doing so,  citizens could get a true understanding of all the details. He skirted around questions about whether the increases would have been avoided if the PPP was still in Government. He maintains that the toll schedule did not allow for steep increases.
The Government has said it will not allow the Bridge company to increase the tolls and will examine all of its options.