Local Parliamentarian and Bishop of Outreach Ministries International, Juan Edghill, is the first preacher to publicly pronounce on that sex scandal involving Head of Beacon Ministries International, self-proclaimed Pope, Dr. Philbert London.
Bishop Edghill told reporters on Thursday that as a man of God, he would want to apologise to those offended by the scandal.
He said as a Christian leader, he is standing in the place of an Intercessor.

"We are sorry, that (an) example looked up to did not fulfill that expectation" Edghill told reporters.
In the invited comment, the Bishop stated that the first thing that needs to happen is that, "the individual needs to acknowledge his/her wrong doing and repentance needs to be sought"
The Bishop who declined to view a copy of the tape said if it can be established that "a brother has sinned and has gone contrary to the word of God, rebuke is in order".

Apart from rebuke, Edghill told reporters that such a person should be excused from leading the flock since it is difficult to shepherd a congregation when there is pain and help is needed.

Questioned on whether he will reach out to London, Edghill said there was a situation in the past, where fraud allegations were leveled against London and he worked to resolve the matter, adding that he will not neglect his responsibility of being a Bishop.

As a Bishop, Edghill feels, it is his responsibility to be a Pastor to pastor others, adding that he has a sacred responsibility.

He said while the world may turn its back on a Pastor or a Minister of the Gospel because of a sin, as a Bishop he has to be able to carry that wounded sheep until it is better.

Based on his own belief, Edghill explained that if he has committed a sin that has offended the public, it is the expectation to say, "I have sinned, I am sorry, please forgive me".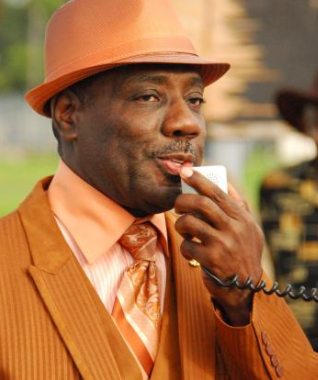 He noted that in correcting an errant brother, one must consider how they would like to be treated if they were found in a similar position.
The Former Minister of Government who came in for criticism back in 2011 for stating that if Jesus was in Guyana he would have voted for the PPP, pointed out that it is extremely difficult for someone outside of the organizational structure to intervene due to the lack of an accountability framework.
The self proclaimed Pope, Dr. Philbert London heads his own church which does not fall under any denomination. He is not answerable to any higher authority in the church.
He has received widespread criticism over the sex scandal and has not made any public appearances sin. There are reports that he addressed the issue to some members of his church during a closed door meeting this week.
Last weekend, several racy photographs of the naked televangelist and his sex partners, surfaced on social media along with video recordings of his sex romps with the various women, who are believed to be members of his church.
The preacher, whose wife passed away a few years ago, could be seen in one of the videos setting up the camera while one of his sex partners waited patiently on his calling.
 During the 47 minute video recording, the local "pope" could be heard demanding that his sex partner offer him the "wotless wine" as he penetrated her anus.
 "Gimme the wotless wine", he demanded, as he also pleaded for it to be done "in a 360 style".