A delegation from the British Parliament is in Guyana working with local Parliamentarians in several areas, including anti-corruption.
Through a Parliament on Anti-Corruption Forum, efforts are being made to explore the role and responsibilities of Parliamentarians in identifying and understanding corruption, and building the legislative capacity of Guyana in tackling corruption through the evolution of the Code of Conduct for public office holders.
Speaker of the National Assembly, Dr. Barton Scotland,  during the Opening of the Forum on Thursday, highlighted the significant role that public office holders have to play in deterring corruption.
Dr. Scotland explained that whenever contracts are to be granted and works undertaken, there exists the potential for corruption, thus making it a good thing for the forum to be held to further enable primarily parliamentarians and the wider public to be aware of the existence of corruption, to recognize the signs of corruption and to feel bold enough to take steps to combat it.
The Speaker further noted that the joint anti-corruption forum is a very timely intervention in the fight against corruption.
The definition of corruption, key areas of anti-corruption, the principles of standards of public life and the role of codes of conduct are among the issues being discussed at the forum.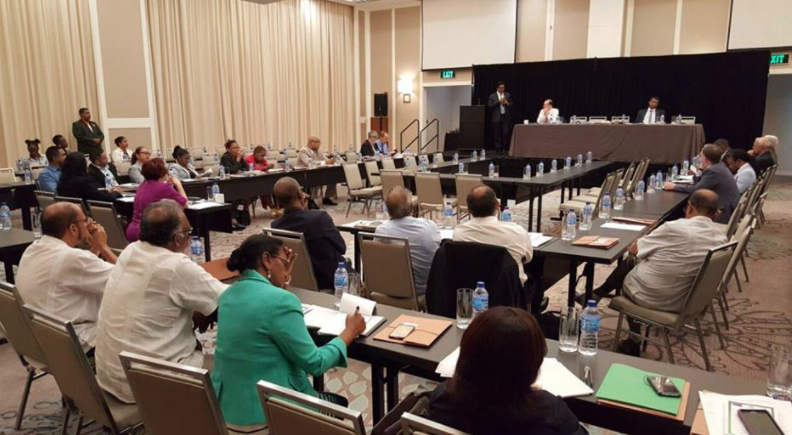 The Rt. Hon. Sir Kevin Barron of the British Parliament said that the UK Team has the experience of some of the issues slated for discussion and one of those include the alleged, "expenses scandal of 2009" and its aftermath.
Minister within the Ministry of Communities, Dawn Hastings said that the Government is looking to lead by example when it comes to tackling corruption.
The Forum which ends on Friday, will see Government and Opposition Members leading discussions with the UK Team.