As Guyanese law enforcement ranks from several agencies come together to undergo an "intense" two-week training programme on investigating fraud, bribery, and corruption, they are being reminded that corruption must also not be allowed to thrive within these very agencies, set up to fight the scourge.
Participants have been drawn from the Special Organised Crime Unit, the Criminal Investigation Department, State Asset Recovery Agency, and the Customs Anti- Narcotics Unit.
Led by two trainers from the UK with over 30 years experience in fraud and anti-corruption matters, the Guyanese Law Enforcement officers will be exposed over the next two weeks to training in fighting fraud and corruption.
The two-week Financial Investigation and Anti Corruption training is funded by the Government of the United Kingdom and builds on work already done in this area by the Special Adviser attached to SOCU, Russel Combe.
British High Commissioner to Guyana, Gregg Quin announced that Combe is slated to return to Guyana later this month for a further one-year engagement with SOCU.
He implored participants to use the training to help them fulfill their task to the highest standards, reminding that there was "no place for corruption within the security agencies in Guyana."
He said any law enforcement rank found engaged in such practices should be prosecuted and imprisoned.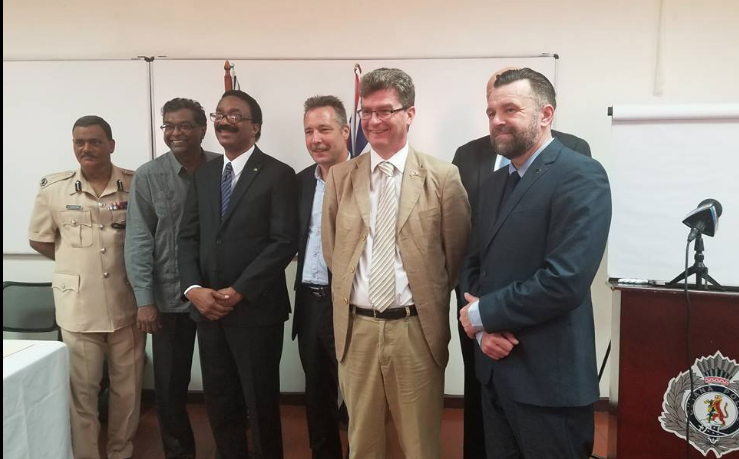 "The security agencies cannot expect respect and corporation if they themselves are not subject to the law."
Quinn said every law enforcement personnel must set the example for the citizens to follow.
Also present at the opening of the training was Public Security Minister Khemraj Ramjattan, Attorney General Basil Williams, and acting Top Cop David Ramnarine.
Williams delivered the charge and told those present that the current administration has been fighting "government corruption" for last three years.
"From the outset of this government, we declared war against corruption in all its forms."
Mr. Williams said, however, that the act of overpayment to contractors must stop since it amounted to corruption and proved to be one way to rob the government of millions of dollars, an act that can have dire effects on the economy.
He encouraged effective detection, investigation, and prosecution of financial crimes, ultimately leading to convictions.
He said, without fear of contradiction, that since the coalition government came to office it has "not experienced any corruption on the scale of the previous government."
Williams also spoke of anti-corruption training through the regions which the government has facilitated and new witness protection and whistleblower legislation.
"Anti-corruption is everybody's business," he implored.