Officers of the Guyana Police Force, Guyana Revenue Authority, Customs Anti-Narcotic Agency, GDF Coast Guard, and the Maritime Administration have benefited from UNODC-WCO Container Control Programme training
The project is receiving support from the U.S. State Department's Office of International Narcotics and Law Enforcement Affairs and implementation from the UN Office of Drugs and Crime (UNODC).
The training which falls under the Caribbean Basin Security Initiative aims to weaken the potential of transnational criminal organizations and traffickers of illicit goods, especially narcotics.
During the launch of the training programme this morning, United States Ambassador to Guyana Sarah- Ann Lynch said through the programme, port control units will be re-invigorated to profile, target, and inspect containers.
The training and technical assistance for these units she said, will be a key aspect of the program, as well as its inter-agency collaboration between customs and law enforcement officials.
"All of us today want to see an end to the exploitation of Guyana's ports to facilitate the trafficking of illicit goods. We all want to see enhanced security, successful inspections of suspect containers, apprehension of criminals, and law enforcement and customs officers equipped with the right tools to get the job done. We hope the program not only improves security, but also helps ensure that the proper duties are paid on exported goods," the Ambassador said.
The Ambassador said If Guyana truly wants to be a major transport and logistics hub, container control must sit at the center.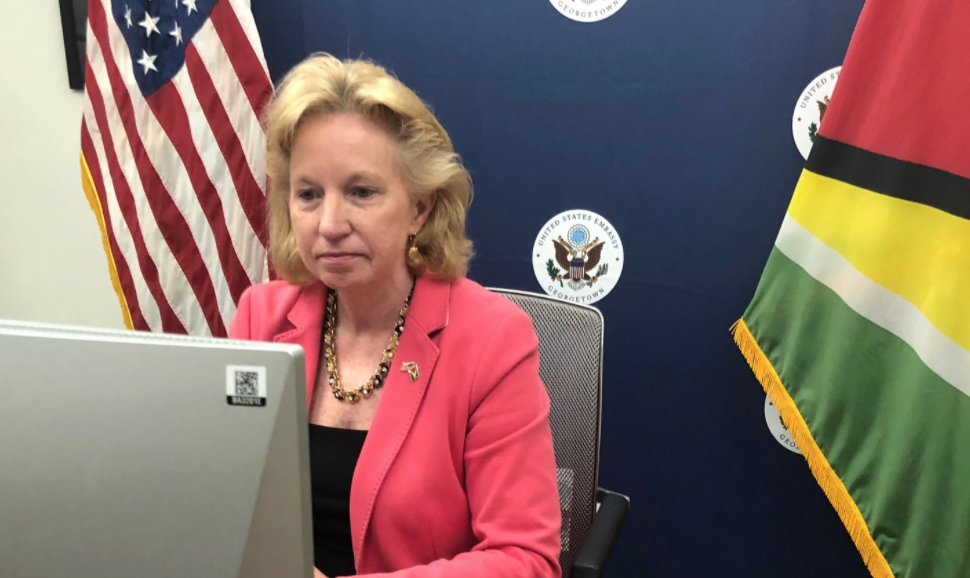 "Training programs like this are vital for risk management, supply chain security, trade facilitation, and enhancing the technical capacity of customs and other law enforcement officers," She said.
Commissioner-General of the Guyana Revenue Authority Godfrey Statia in his remarks said as Guyana becomes the regional leader in transshipment services through its increased construction of deep-water port facilities, the challenges faced with illicit trade, crime, and security are expected to increase.
"We, therefore, need to ensure that we are prepared to meet these challenges and ensure compliance with Guyanese and international laws. Consequently, there is a greater need for our officers to be more trained, prepared, and vigilant, as criminal elements seeking to ply their trade increase their activities through Guyana's ports," the GRA boss said.
The multi-agency approach, Mr. Statia said, is necessary as local enforcement Agencies improve efforts to stem the tide of illicit and criminal activities.
There have been a number of breaches over the years at Guyana's seaports with drugs and other illegal items discovered in various exports.