Four CG motorcycle riding  bandits attacked and robbed the Prance Chinese Supermarket at Crown Dam, Industry on the East Coast of Demerara this afternoon.
The four arrived on two Honda CG motorcycles and two kept watch on the outside while the other two who were armed rushed into the business place and pounced on the owners and cashiers.
Surveillance video show the two men walking into the supermarket just after customers left, and proceeding straight to the cashier demanding money.  The incident took place just after 2:30pm.
The cashier and another worker, both Chinese nationals, were gun butted as the gunmen demanded money. The cashier opened the cash register and handed over all the money that was in there along with telephone cards.
At that point, one of the gunmen made his way to the inside of the cashier area and went straight to a bottom counter below the cash register and pulled out a large quantity of money that was stashed there. It is suspected that it totaled well over one million dollars.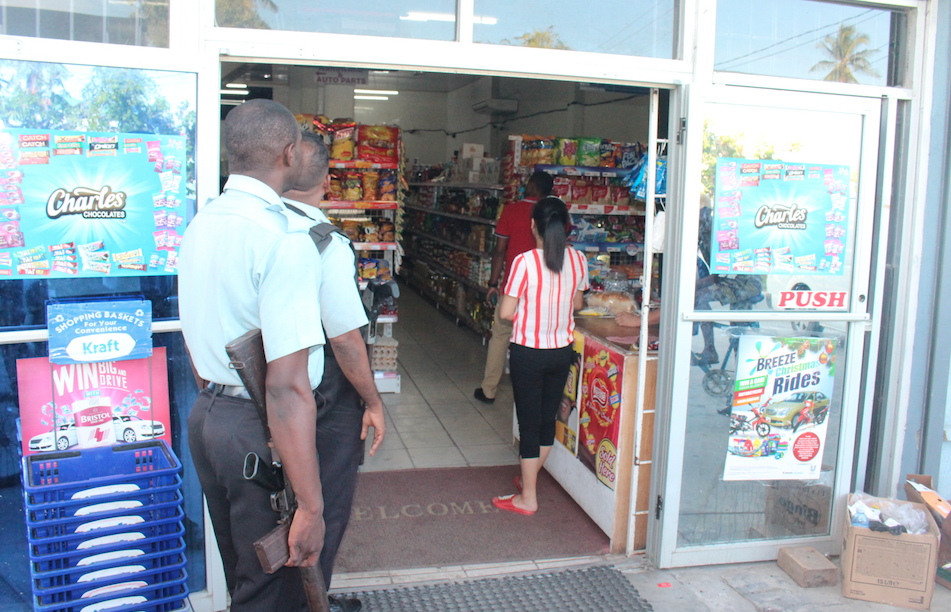 While he dumped the money on the counter, the other gunman grabbed all of it while waving a gun at the confused cashier who had already been hit to the head.
The two men hurried out of the supermarket and hopped on to the two motorcycles being ridden by their accomplices and successfully escaped.
Neighbours and other residents in the area only realized that the supermarket was robbed after the men left and they saw the bleeding workers outside.
Police investigators were called to the scene as the injured workers were taken to the hospital. As the Police started their probe, the language barrier prevented them from taking statements but they were able to view the video recordings of the incident.
The business has several security cameras on the inside and outside and investigators intend to go through all of the various angles in an effort to identify the gunmen.
Persons gathered outside the supermarket were surprised that the business place was attacked since it is usually busy and is also located next door to other businesses and in a busy area.
Some said they suspect that the gunmen may have visited the business place before since they clearly had knowledge of where large sums of cash was hidden.  Investigations are ongoing.