The Guyana Telephone and Telegraph Company rolled out the new Blackberry Z10 Smartphone boasting of offering the best service for the device in Guyana. The company is so impressed with its own data service on the smart phone that it is offering buyers of the device one year of free data service once they buy the Z10 from GT&T.
New Chief Financial Officer at GT&T, Justin Nedd told the launching ceremony on Tuesday that GT&T will continue to bring value to the products and services that the company offer. He said the company has been "rapidly expanding" its mobile network across Guyana and customers could expect more in the future.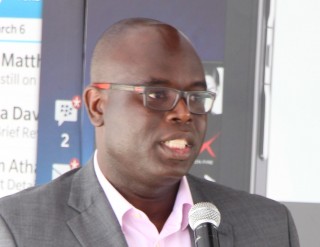 The company intends to focus heavily on its service to hinterland communities over the next few months. Mr. Nedd pointed out that GT&T intends to ensure that the needs of customers are always met. "In the face of new competition, it is evident that some of the things that we do have to be done better" he said.
The Blackberry Z10 which was launched a few months ago in the United States is the first smart phone from the
Blackberry which promotes the device as a new experience where features and applications work together seamlessly.