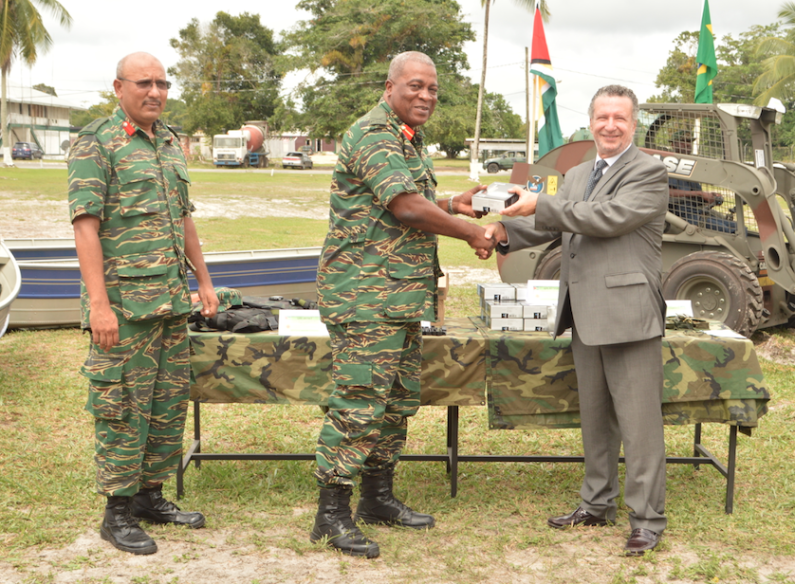 The Government of Brazil through the local embassy on Thursday handed over $26M in equipment to the Guyana Defence Force.
According to a statement from the GDF, the donated equipment, is the outcome of continued government to government cooperation between Brazil and Guyana, and particularly, between the countries militaries.
 "The military aid package, consists of eight ARUA 600 Aluminium boats, each outfitted with a Mercury 2-stroke, 40HP electric-start, gasoline outboard motors; 204 Milspec NORMAM5 Jungle warfare life jackets; 200 Ploymer magazine unloaders; 6 military compasses, 20 GPSMAP62s GPS receivers, and one CASE SV185 Bobcat with accessories. This equipment will enhance the training and operational capacity of the GDF, at Colonel Robert Mitchell Jungle and Amphibious Training School (CRMJATS) at Makouria", the release said.
Speaking briefly of the donation, Brazillian Ambassador De Paula referenced the long standing cooperation between Brazil and Guyana and said that more has to be done to continue building stronger relations. "We need to go further. We already have military instructors and materials available, but we must look for more ways to improve co-operation," he said.
Brazilian Military Attaché Colonel Oswaldo Romāo, explained that the reality of the military aid package stems from the fruitful discussions between the GDF and the Brazilian Military, at the 2014 First Bilateral Working Group cacaus. He referenced the coperation between the Brazilian and Guyanese militaries which hails from 1996. "It is an honour to present this equipment which will enhance and impact the training provided at the GDF's Jungle warfare school," he said.
 GDF Chief of Staff, Brigadier Mark Phillips, thanked the government and people of Brazil as well as the Brazilian Armed Forces, for their unwavering commitment to aiding the GDF in enhancing the delivery of military jungle training.
He said "this is concrete proof of the ongoing security cooperation between our nations. CRMJATS will be better equipped and this equipment will agument the work of your instructors who are with us and who have aided in improving the delivery of training at our primere jungle training school," he said, "this will help to move forward, our programme to develop JATS as a Centre of Excellence in jungle training not only for the GDF but for any other country which needs to benefit from such a facility. My highest regards are extended to Maj General Luis Schons, whose promise is now a reality. We are assured that security co-operation between our states and militaries is in good hands as we continue to work together to strengthen our relations."
Following the handing over of the equipment, at which Officers and ranks of the GDF and the Brazilian Armed Forces were present, there was a demonstration of some of the equipment.