A Sunday afternoon outing for a family turned deadly this afternoon in Berbice.
Five members of the family, including a young child, died in a gruesome road accident in the Corentyne area.
The names of the five persons have not been released, but they were all passengers of a Honda motorcar, bearing registration number PPP-3394, that slammed into a truck that was transporting paddy.
The driver of the truck is in a critical state.
According to reports from the Berbice area, the accident occurred on the #59 village public road, Corentyne.
The two vehicles were traveling in opposite directions when the driver of the speeding car reportedly lost control and slammed head on into the truck.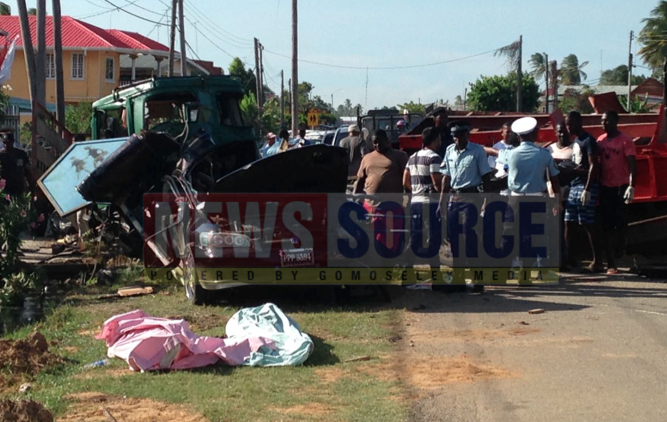 The impact sent both vehicles toppling, with the car being completely crushed. Part of the child's body was flung onto the roadway. Firefighters had to be summoned to the scene to cut apart car's wreckage to remove the other bodies. All of the persons died on the spot.
The section of the road was closed off for close to an hour as curious onlookers rushed to the scene, that had paddy spilled across the roadway.
An investigation has been launched and a number of eyewitnesses have provided statements. The family is believed to be from Bel Air, Georgetown.