The Embassy of Guyana in Cuba has announced that President David Granger has completed his first round of chemotherapy treatment in the island and has been given the green light by his Doctors to return home to Guyana.
The President has also completed a number of surgical interventions to treat his non-hodgkin lymphoma diagnosis.
The statement said the President has received the first round of chemotherapy treatment and, according to the Medical Team, has responded very well.
"With the President's highly specialized medical care and treatment for nearly three weeks – and his positive response to the medical interventions and treatment – his Medical Team of Cuban Specialists has given approval for him to travel to Guyana. The Embassy of the Cooperative Republic of Guyana is pleased to officially inform that His Excellency, the President, would depart Havana on Tuesday, November 20, 2018, and will arrive in Guyana on the evening of the same day", the statement noted.
It also stated that the President may be required to return to Havana in a time prescribed by his Medical Team in order to examine and evaluate the progress of his recovery – and to extend his schedule of treatment.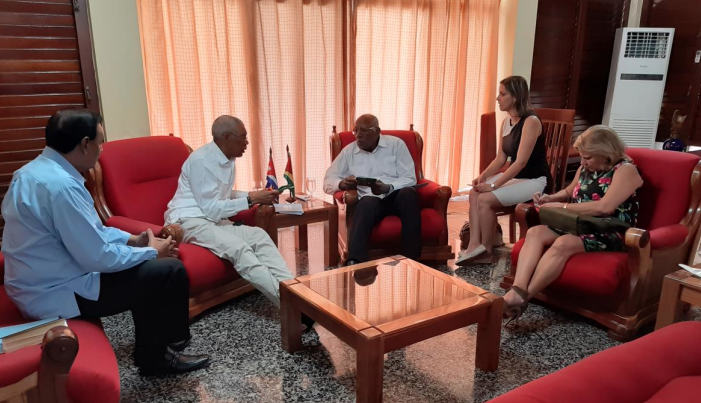 The statement noted that the President has been continuing his daily routine of work, treatment and rest under the supervision of his Medical Team.
Last Friday, he met Cuba's First VicePresident, His Excellency Salvador Valdes Mesa (who was performing the duties of the President of Cuba), and Vice-Minister in the Ministry of Foreign Affairs (MINREX), the Honorable Ana Teresita Gonzalez Fraga, to discuss a number of matters of mutual interest.
"His Excellency, President David Granger, wishes to reiterate publicly his deep appreciation to His Excellency, Miguel Diaz-Canel Bermuda, President of the Republic of Cuba; Army General Raul Castro Ruz, First Secretary of the Communist Party of Cuba; the Honorable Jose Angel Portal Miranda, Minister of Public Health; His Excellency, Narciso Reinaldo Amador Socorro, Ambassador of Cuba in Guyana and, indeed, the Government of the Republic of Cuba for the excellent arrangements that were put in place for his arrival in Cuba and his subsequent extraordinary medical treatment in CIMEQ."
President Granger has also expressed thanks to the management of the hospital in Cuba, as well as to his Team of Medical Specialists; the Team of Nurses; the other medical staff of CIMEQ, and his Security and Protocol Detail for their professionalism, the special care and attention, which he has received and for the excellent facilities in which he has been accommodated. 
Last week, the Government announced the cancer diagnosis for the President. News Source understands that the cancer was caught in the early stages and the President's medical team in Cuba has advised that he will make a full recovery.