The flag carrier of the United Kingdom and award-winning airline, British Airways is gearing up to begin its scheduled service to Guyana in the first quarter of 2023.
Minister of Public Works, Juan Edghill announced today that while the service will begin in 2023, tickets will go on sale this week.
The airline is expected to operate twice weekly flights between Georgetown and London with stops in St. Lucia.
"British Airways is a world renowned airline and is the UK's primary flag carrier and its service is of great standard", Edghill said, as he noted that the airline's entry into the market will make more arrival seats available for the traveling public.
Minister within the Ministry of Public Works, Deodat Indar said the airline's entry to the Guyana market has been long overdue and the decision to begin operations to Guyana should be seen as a testament to the eyes of the world now being on Guyana.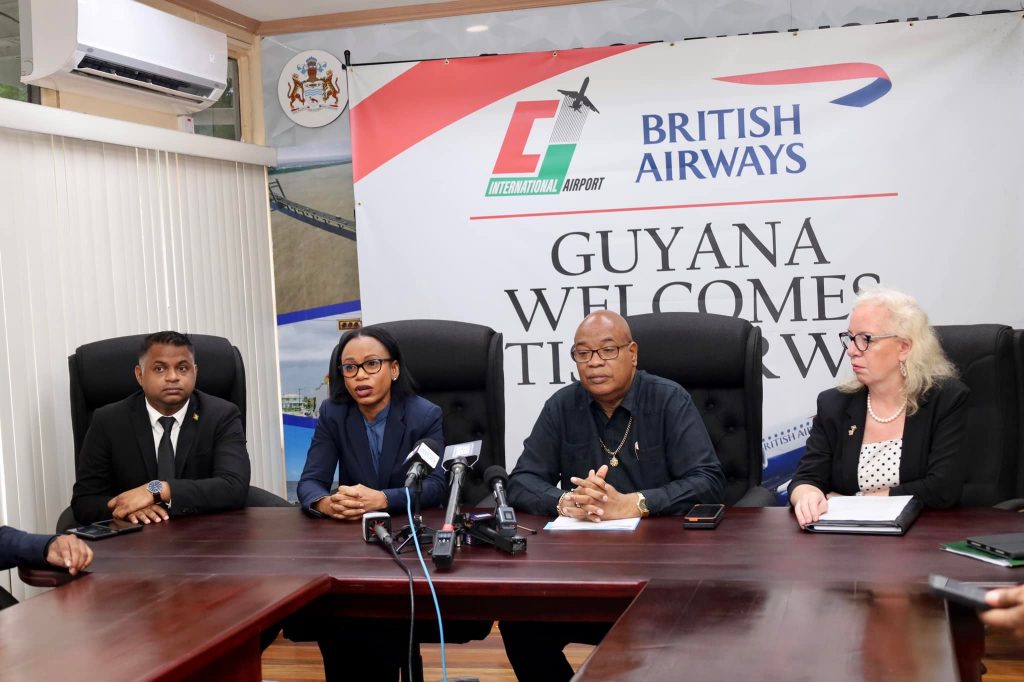 He said negotiations with the airline began several months ago and the Government is pleased with the decision of British Airways to make Guyana its newest destination.
The British High Commissioner to Guyana, Jane Miller, said Guyana is now one of the world's most amazing tourist destinations and she is happy that the airline will open up new doors for destination Guyana and increase travel between Georgetown and London.
"There is so much to see here and I think British Airways adding a direct flight shows so much confidence in that. And also in trade, we know that the economy is growing so fast, so its a great opportunity for the Europeans to becoming directly to Guyana", High Commissioner Miller said.
She reminded that Guyana is the UK's largest trading partner in the Caribbean and the operation of the British Airways service is expected to bolster that partnership.
The Tourism Ministry is expected to work along with the Guyana Tourism Authority to begin looking at tourism products that may be best suited for the British and European markets.
British Airways currently operates in a number of Caribbean islands including Barbados, St. Lucia, St. Kitts, Jamaica and the Cayman Islands.