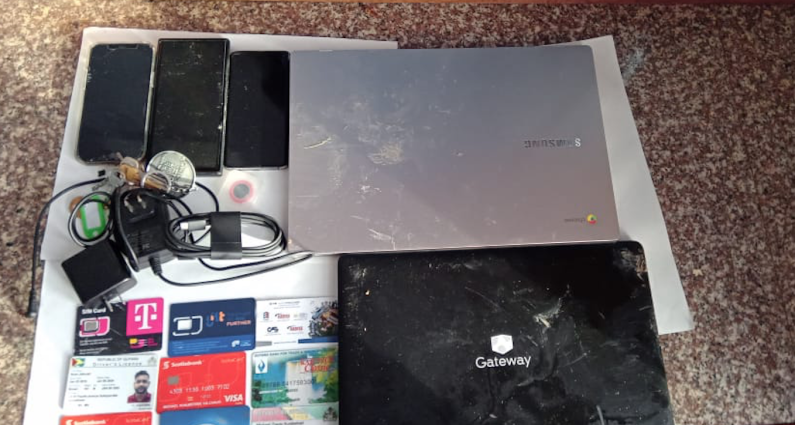 A birthday party at a house in Fourth Street, La Bonne Intention on the East Coast of Demerara became a crime scene early this morning as the attendees were held at gunpoint and robbed of their valuables.
In a statement, the Guyana Police Force four armed bandits entered the house through an open backdoor and proceeded to rob businessman Michael Kunjbehari of two laptops valued at $200,000, $1.2 million in cash and his ID card, businessman Robin Satrohan of $500,000 in cash and his Samsung Galaxy phone, and businessman Ryan Jahurali of his Samsung Note20 phone and $200,000 cash.
Attorney Everton Singh-Lammy, was robbed of a goold ring valued at $500,000, his Samsung Note20 Ultra phone and $170,000 cash.
Prashad Nagar businessman John Ali,was robbed of a black strap bag valued $700,000, a diamond ring valued at $4 million dollars, one white gold chain valued $400,000, one Samsung22 Ultra cell phone and $1.5M in cash.
Another businessman, Mario Joseph, was robbed of $50,000 cash, Georgetown businessman Anthony Joseph was robbed of his Iphone 13 and Canadian citizen Ramsammy (only name provided) was relieved of his gold chain valued at $1.1 million, a gold ring valued at $32,000 and $63,000 cash along with his driver's license.
This morning, one of the robbery victims was able to track his smartphone and that led investigators to an abandoned house in Sophia where some of the items were recovered.
The men then made good their escape in a waiting car.
The matter was reported to the police and the scene was visited by a party of police ranks. The scene was photographed and the area was canvassed for CCTV cameras.
The police said investigators later visited a house in North Melanie, ECD where three suspects were apprehended and taken to the BV Police Station. They were placed into custody and were identified by the victims as the perpetrators.
Investigators are reviewing CCTV camera footage as the probe into the robbery continues.