The Government's Chief Spokesman Dr. Roger Luncheon has admitted that recent campaign trips to North America by members of the government and the governing party were all funded by taxpayers following cabinet's approval.
Last week a number of government Ministers joined former President Bharrat Jagdeo and People's Progressive Party Prime Ministerial Candidate Elisabeth Harper on fundraising trips to the US and Canada for the PPP's election campaign.
The trips cost taxpayers over $2.6 Million although the events during the trips were all political events for the PPP.
Mr. Jagdeo was accompanied to Canada by Minister of Tourism, Housing and Water Irfaan Ali where the two hosted and attended fundraising events while Ms. Harper traveled to New York and met up with Natural Resources Minister Robert Persaud for campaign meetings and fundraising events there.
Ms. Harper was accompanied by her husband and a special assistant.
The two teams met up in New York on Saturday and both Jagdeo and Harper attended a fundraising dinner in Queens.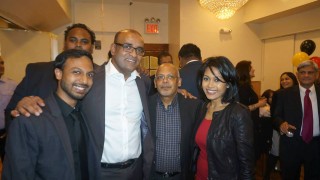 News Source understands that the trips to Canada and New York were both funded through a Ministry of Tourism Diaspora programme that was presented to the Cabinet last week and got full approval.
Questioned about the issue on Wednesday at his weekly press briefing, Cabinet Secretary Dr. Roger Luncheon said "You can't expect that these activities conducted by officials and leading to expenditure of public funds would not be graced by a cabinet decision".
While ignoring that the trips were political rather than official, Dr. Luncheon said "If you ask me it would be highly improper to spend public finds in that context without a cabinet decision,"
"You have to have a cabinet decision for officials to spend government money", he argued.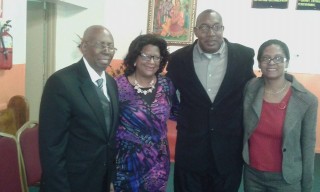 When he was pressed about the appropriateness of the government using taxpayers money to fund campaign events for the People's Progressive Party, the Cabinet Secretary sought to dismiss the question and stated that "this occasion for responding to that question is inappropriate… The issue of whether it is an appropriate expenditure might be entertained by the Auditor General, the Public Accounts Committee and such bodies but at the end of the day you have to have cabinet approval to spend the government money"
Presidential Candidate for the APNU+AFC, David Granger has been raising concern about the abuse of government resources by the governing party for its election campaign. Granger said the "abuse" has created a situation where political parties outside of the government are at a disadvantage and therefore while the elections might be free, it is unlikely that the elections will be considered fair.
Ironically, former President Jagdeo who is on the PPP's list of candidates for the elections, served as the Head of Mission for a Commonwealth Observer Mission for the Sri Lanka elections. In his report on the Sri Lankan elections, Jagdeo complained about the abuse of state resources by the party that was in government in Sri Lanka.
Filed: 15th April, 2015