A Campbellville businessman shot his wife dead then turned the gun on himself early on Saturday morning in the couple's home which was located on the third storey of their three storey business property at the corner of Garnett and Delph Streets.
The dead man has been identified as businessman Ramdat Lokhnauth aka Moses and his wife has been identified Saramani Lokhnauth aka Nadia. Both were believed to be in their late 40's.
The man reportedly called relatives after shooting his wife to tell them that he was about to take his own life. His son said he received a call just before 4 am from his father. The young man said his father told him that he needed to pick up a family friend and come across to the home since something was about to happen.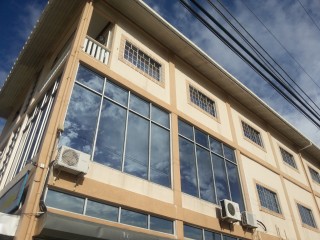 The family friend who grew up with the businessman Joseph Lewis explained that the couple was in the middle of a divorce settlement. He said the man had told him that they had agreed to have a financial settlement for the divorce. The man did not want to sell the building which housed his businesses and home, according to the friend who further explained that on Friday one of the local banks denied him a loan.
Family and friends are convinced that the denial of the loan may have triggered his decision to kill his wife and take his own life.
When the man's son and the friend arrived at the home, the security guard told them that the businessman had thrown the keys down to him to hand to them when they arrive. The friend said he asked the security whether he had heard any sounds coming from the top floor of the building and the man said he heard nothing. When the son and the family friend made their way to the living quarters of the property, the businessman and his wife were found lying on the bed.
News Source understands that the woman recently returned to Guyana from the United States and Trinidad. She had been living between the two countries as they settled their divorce.  The man's eldest son whom he called before killing himself was the product of a previous relationship.
Police investigators spent most of the morning at the scene talking to relatives and friends who rushed down to the home.