Ranks of the Customs Anti-Narcotics Unit (CANU) are being encouraged to ensure they remain professional and showcase integrity at all times.
CANU's annual training conference opened this morning in Georgetown with the Minister of Public Security, Khemraj Ramjattan, reminding the agents of the importance of their job and the need for more professionalism and integrity.
"In the process of continuing, expanding more and more the amount of people that are going to be trained at this annual staff training in which a number of very very important topics are going to be dealt with; Moral ethics, integrity and professionalism is number one that I see on the list and one of which I had spoken to Mr. Leslie Ramlall about that I want emphasized. Moral ethics, integrity and professionalism; very important topic as part of the 15 or so subject areas that will be covered during this period of the 17th to the 21st of September."
Minister Ramjattan spoke extensively about the issues surrounding the narcotics trade in Guyana, and the world at large.
He noted that the trade of narcotics globally can be compared to the management of large corporations, adding that the drug trafficking industry has a ripple effect on other criminal activities like trafficking in persons, counterfeiting and even "gun running."
"And I want you as officers in training to don't feel that the other man gon bat for you, and that you gon do mischief at the corner. No! Everybody got to go out there and do it. And that is what is called professionalism, and I want that professionalism to breathe integrity. Look! This job here is a tough one, it ain't easy", Ramjattan charged.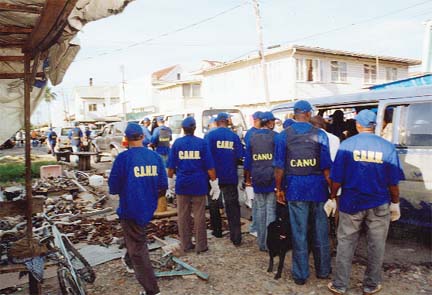 CANU's Deputy Director, Leslie Ramlall noted that through an increase in budgetary allocations to the Unit, they have since been able to set up several locations across the country and they have also increased training initiatives.
The result, he said, is that there is now the delivery of quality performances in combatting the fight against narcotics.
Mr. Ramlall noted that while cocaine and cannabis remain the most popular illegal drugs on the local market, there has also been a surge in the availability and use of other drugs.
He specifically noted that ecstasy in particular has become more popular, especially among young people.
Ramlall also noted, "However, while we are delighted about the collaborative efforts thus far; we are also weary of the fact that there is a definite need for much more to be done so as to ensure that no efforts are speared in dismantling networks are resources of narcotics dealers and their associates."
The annual training programme is examining various issues including the use of firearms, search techniques, handling prisoners, living in a human rights context, search techniques in homes, boats, etc and interviewing techniques.
Over 90 drug enforcement agents are participating in the event. (Dennis Glasgow)