President David A. Granger at 4 o' clock this morning, summoned an emergency meeting of the Cabinet in wake of the current flood situation affecting Georgetown and other areas along the coastal regions of Guyana.
A statement from the Ministry of the Presidency informed that the Civil Defence Commission (CDC) has since been activated and the Guyana Defence Force will be supporting the Ministry of Public Infrastructure and the Ministry of Communities in flood relief efforts
According to the President's office, over the past 16 hours Guyana experienced an intense period of rainfall. Georgetown received approximately 70mm of rainfall.The East Coast of Demerara received approximately 100mm, while Leonora in Region 3 received around 225mm. This resulted in flooding in most low-lying areas.
The following decisions and actions were taken as a result of that emergency meeting:
An aerial survey of the coastal areas of the country will be done to ascertain the extent of the flooding along the coast.
The Ministries of Public Security and Communities will contact all regional offices, stations and police outposts to obtain a quick briefing of any affected areas.
Shelters will be established in suitable areas for any residents that require temporary accommodation.
Traffic restrictions will be issued and citizens are advised that all non-essential travel should be avoided.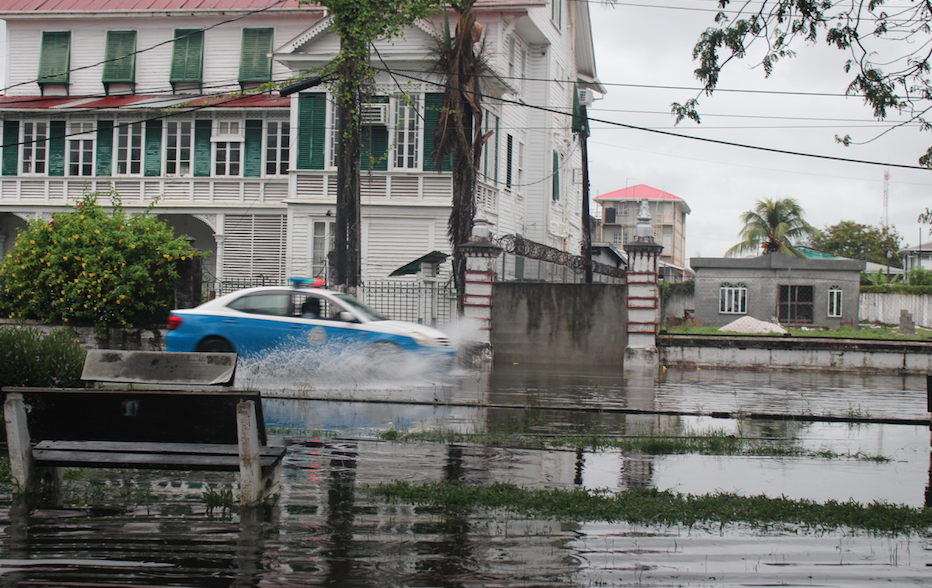 The President has been briefed on the situation by the Minister of Public Infrastructure and was assured that all mechanical pumps in the city were operational during the night.
At low tide, at 7:00 am this morning, all sluices in Georgetown were opened, with the exception of the one at Sussex Street, which is under repairs.  The government believes that the move will bring some measure of relief to the higher sections of Georgetown.
Rainfall of approximately 20mm – 40mm is anticipated in the next 12 hours, and that could contribute to additional flooding in low-lying areas.