With over 3000 persons affected by massive floods in Regions Seven and Eight, the government has expended millions of dollars in relief and continues to spend more in order to bring relief to the flood-hit villages.
Deputy Director General of the Civil Defence Commission (CDC), Major Kestor Craig provided an update on the situation during a Press conference on Tuesday and noted that the $7.9million spent so far was aside from donations received.
He said the monies spent so far includes daily flights totaling some $2.8M, meals in the sum of $116,900, hampers totaling $4.1M and accommodation, boat and land transportation to the tune of $700,000. Other miscellaneous were calculated at $93,668.
Major Craig noted that the value of the donations from various entities are still being calculated.
Hundreds of relief food hampers were distributed in Chenapou, Kaibarupai, Waipa, Sand Hill, Itabac, and Kanapang while some 209 relief cleaning hampers were given to Kaibarupai, Waipa, Sand Hill, Itabac, and Kanapang.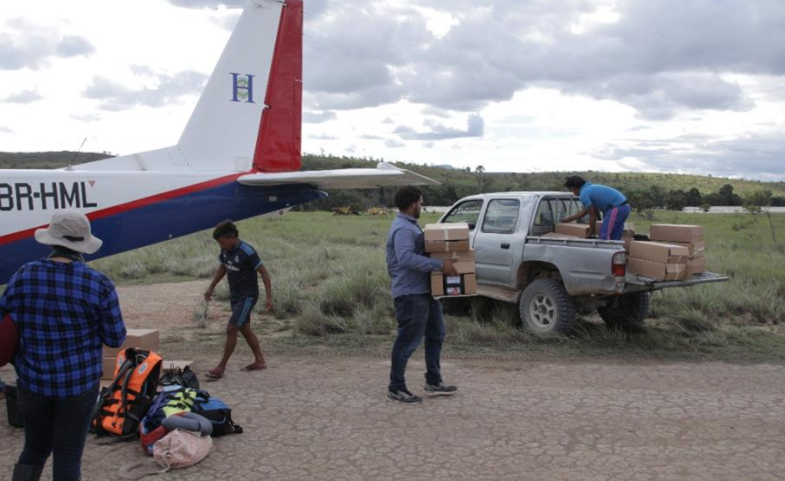 Heavy rainfall had forced hundreds of residents in the affected areas to move to uphill areas after the banks of the Potaro River over-topped.
The lives of over 3,000 hinterland residents have been significantly affected as a result of the massive flooding which struck several lowland communities in Region Seven (Cuyuni Mazaruni) and Region Eight (Potaro Siparuni) just over a week ago.
While some 3,274 persons are said to be affected in Region Eight, the full impact of the flood in Region 7 is still being assessed.
The damages have been severe to the extent where the school in Itabac was washed away and has since been rendered unstable.
Additionally, farms and public thoroughfares were also affected.
Major Craig said government in collaboration with other agencies has been working assiduously to provide relief to the various areas as floodwaters progressively recede.
Apart from the increase in mosquitoes in some areas and the spread of diarrhea, there were no major health risks to the communities and its residents.