Two months after a major riot at the Camp Street jail resulted in the deaths of 17 inmates, the Joint Services moved in to the prison on Saturday and carried out an "Operation Restore Order" search.
By the end of the operation, the security agents seized 44 cellphones, over 150 improvised weapons, a quantity of scissors, marijuana, kitchen knives and even tattoo machines, among other illegal items.
Prisoners were caught surprised by the early morning raid which started in all the main prison cell blocks.  Inmates were awakened from their sleep just after 5:00am  and forced out of their cells as the search began.
The Fire Service was on standby in case of any possible disturbance.  Back in March, a similar search resulted in inmates setting fire to one of the cell blocks and that resulted in the deaths of the 17 inmates.
A number of high-profile prisoners have also been transferred from the overcrowded Camp Street jail and taken to different prisons around the country.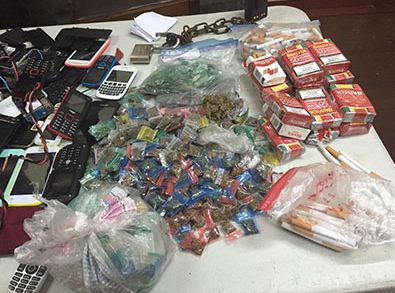 Yesterday's operation was launched in wake of reports that persons were spotted throwing packages over the prison fence recently.  The cordon around the jailhouse has been widened.  The authorities also decided to effect the search after several reports of prisoners calling persons from inside the jail, demanding cellphone service top ups and issuing threats.
Additionally, following the prison riot, officials of the jailhouse were embarrassed as some prisoners brazenly used their cellphones to do daily social media updates from within the prison walls.
Cellphones are among the prohibited items. News Source understands that the government intends to take a firmer approach to the security situation at all of the prisons across the country.