The Central Housing and Planning Authority on Wednesday said that it will no longer be business as usual, as it moves to address the existing "chaos" that continues to hinder the orderly and rational development of land.
In an effort to clamp down on unauthorized development and construction of buildings, the CH&PA has started engagement with the Local Democratic Organs from all ten administrative regions.
The first outreach session was held with the municipalities this morning in Georgetown where Council representatives were sensitized on the planning, permission and building permit process.
The CH&PA raised concerns over the growing prevalence of unauthorized development across the country and particularly in Georgetown, saying that it has authority to stop unauthorized development and take the owners to Court.
In keeping with the claim of widespread unauthorized development, the CH&PA said it has issued several contravention notice letters, but could not comment on how many persons have actually been taken to court.
There is an existing fine for persons who refuse to adhere to building codes which the CH&PA said is minimal and it intends to have revised to help with its enforcement efforts.
Chief Development Planner, Germain Stewart said there is a need for clarity on issues and more collaboration so that the system can work as it should.
"There is so much chaos out there but we need to start somewhere and maybe we need to make a few examples and let the word get around that it's not business as usual," she told reporters.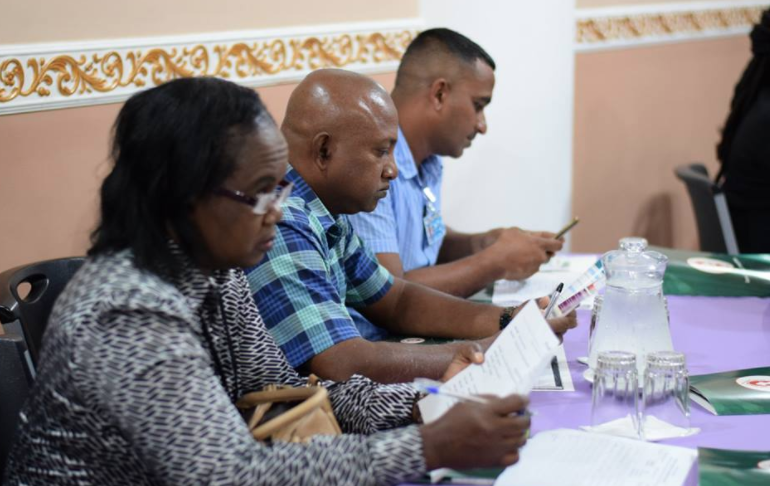 Ms. Stewart said there is a high prevalence of persons who continue to build without the requite permission and in so doing is in violation of building codes.
"A lot of time without permission developers go in and start construction and it is not within the building regulations… a lot of persons complaining of building to close to boundary lines, poor access to water and light and even privacy," she explained.
The aim of Wednesday's outreach was to create a stronger inter-agency relationship with all local authorities with respect to planning permits and to address building and land use contraventions.
This session brought together Town Clerks, Chairpersons of the Municipality Works Committees, and the Environmental Health Officers that are assigned to the various municipalities and also the City Engineer and the Chief Building Inspector from the Georgetown City Council.
Development Planner, Mariella Khirrattie explained that the local authority organs have been delegated with the function of approving residential building construction and development.
However, Developers must seek permission from the CH&PA for residential three stories and above along with all non-residential development.