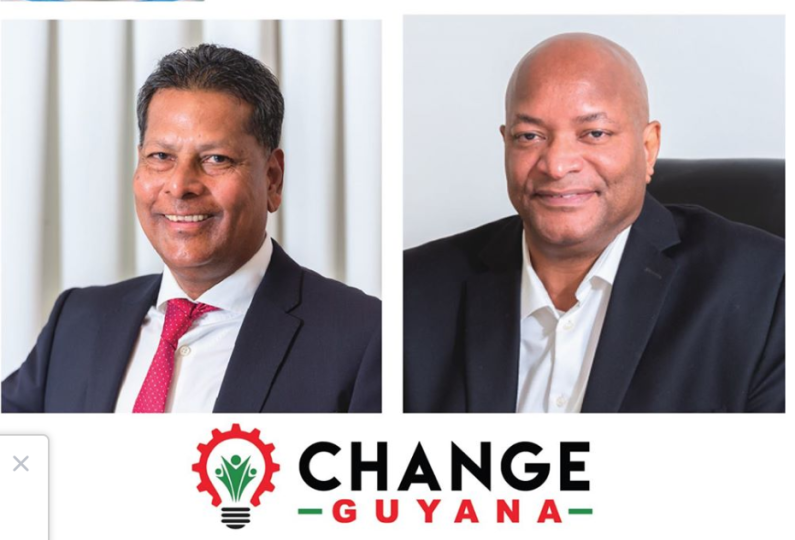 With a plan to tackle Guyana's problems urgently, the newest political party in Guyana, Change Guyana was officially launched last evening at the pegasus hotel.
The party is headed by businessman and owner of the Pegasus, Robert Badal.
He will serve as the party's Presidential Candidate for the next elections, while well known Chartered Accountant Nigel Hinds will serve as his Prime Ministerial Candidate.
In front of their relatives and special invitees, the two founders of the party unveiled their plans for Guyana under a Change Guyana banner and encouraging more Guyanese to join the party.
"I ask you to join the Change Guyana Movement and let us utilize the abundant resources that God has bestowed upon us", Prime Ministerial Candidate Nigel Hinds urged.
He said it is time for the advancement of economic and social strategies that could improve the way of life for Guyanese, promising better management of the country's natural resources.
The Presidential Candidate, businessman Robert Badal said better decisions and policies need to be put in place in Guyana and his Change Guyana party will do just that.
According to Badal, many of the difficulties that existed fifty years ago, still exist for many today and that needs to be changed. He said Guyanese must look to new leadership for a new beginning and put behind the parties that have been ruling Guyana since independence.
"They have failed us before and they continue to fail us if we continue to make the same choices our parents made since independence. The simple reason is that they have displayed no vision for the economic upliftment of the country and no track record of wealth or job creation or business development", Badal said.
He pointed to the downturn in the bauxite and sugar industries over the past decades as proof that the country has been badly managed.
Mr. Badal pointed to his track record as a businessman and said his success in business shows that he would make a successful President.
In the coming weeks, he said, the Change Guyana movement will continue to roll out its plans and programmes.