The Guyana Defence Force's (GDF) has welcomed a donation of equipment from the Chinese People's Liberation Army (PLA).  The items were officially handed over on Monday during a brief ceremony at the Guyana Coast Guard headquarters.
During the handover ceremony, President David Granger said that the investment by China is an important one as it further cements relations between the two countries.
The donation consists of 31 pieces of equipment including patrol boats, bulldozers, one excavator, water tankers, fuel tankers, tipper trucks, off-road ambulances and other vehicles.
The President said that infrastructural development is a top national priority and that the GDF's technical corps must be strengthened to allow it to contribute effectively to national development and to execute its mandate of protecting the territory and preventing transnational crime.  "National defence is inseparable from national development. Public infrastructure enables and ensures public security by guaranteeing safety for our citizens, by providing assurance to investors and visitors and contributing to an enabling environment for investment," the President said.
Chief of Staff of the GDF, Brigadier Patrick West, during brief remarks, echoed the President's sentiments, stating that the donation is indeed appropriate as it will aid in the total transformation of the GDF into a body that effectively oversees total national events.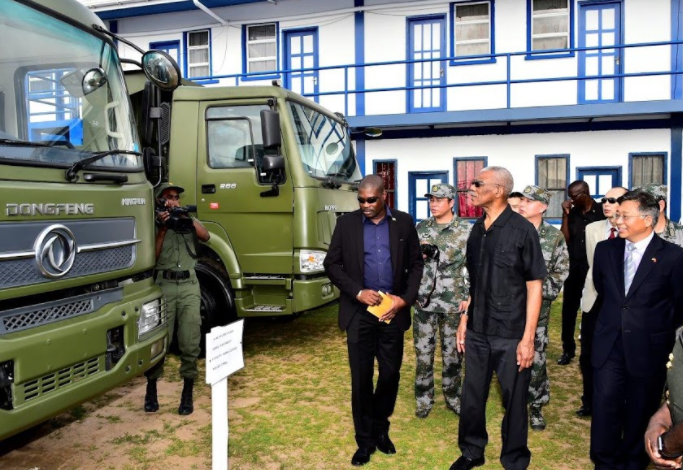 "The GDF sees this donation as extremely significant since the type of equipment included in this catchment includes machinery that can positively impact our third role for national development such as road and bridge building.  It is notable that this equipment will, to a large measure, have the total effect of helping the Engineering Battalion and the Specialist Battalion of the Guyana People's Militia which is our reserve force. And it helps to satisfy the vision of effective transformation for total national events," he said.
Ambassador of the People's Republic of China to Guyana, Mr. Cui Jianchun, said that the Government of China highly values the relationship between the two countries and that the People's Republic of China stands ready to further broaden and deepen the exchange and cooperation between the military forces of the two country.
"For many years, the PLA has been providing military aid and training to the GDF, which is beneficial to the development of the GDF and the friendship between the two sides.  This handing over of military equipment at this time is once again a significant testimony of the friendly and practical cooperation between the PLA and the GDF. I will spare no effort to push forward the relationship between our two armies and bring Chine-Guyana relations to new heights" he said.
Apart from the donation, the PLA has also brought in a team of technical and military officers, who will provide training to GDF troops on the operation of the equipment.