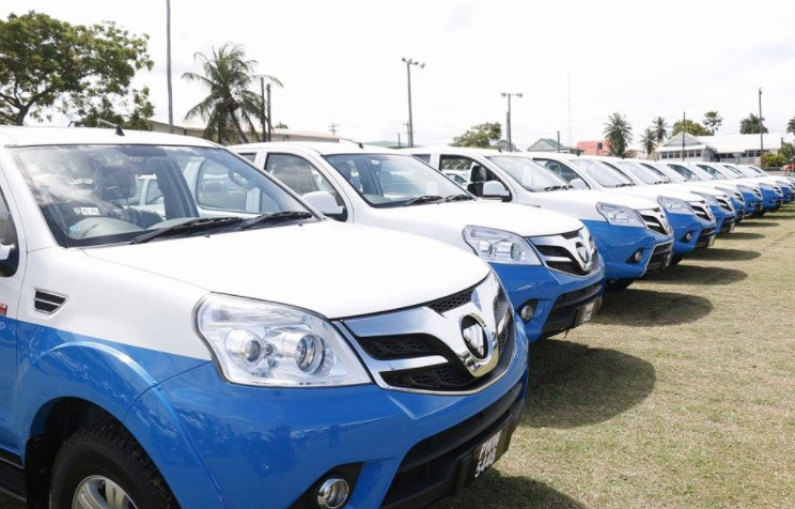 The Guyana Police Force received a boost to its crime-fighting capacity on Monday with the formal hand over of vehicles and other policing gear from the People's Republic of China.
The US$2.6 million donation was birthed out of a 2014 engagement between Chinese Embassy Officials and Police Commissioner Seelall Persaud and is a follow up to an initial donation of $11.9 million in radio sets, motorcycles, body cameras and helmets.
The Police Force now has within its fleet an addition of 56 pickups, 44 motorcycles, 35 all-terrain vehicles and five buses. Monday's donation also included 550 pieces of protective gears, 40 laptops, and 30 desktop computers.
President David Granger said the donation represented a "magnificent day" for public security and human safety in Guyana.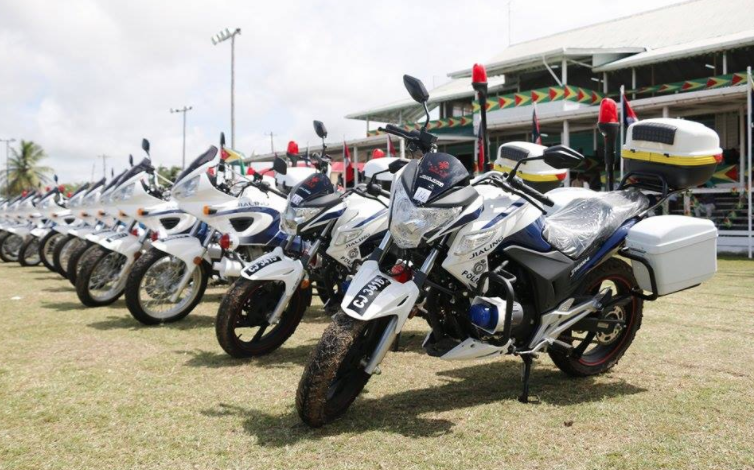 Mr. Granger said for too long lack of resources have restricted the police's ability to enforce the law as he registered the need for better monitoring of the use of Guyana's borders, airspace and sea space.
"We need an efficient and well-equipped police force in order to combat all threats to safety and security," he said.
Through the gift of transportation assets, the President said he expects that the force will be able to better its response and improve its efficiency.
Meanwhile, Minister of State Joseph Harmon, who is acting at the country's Public Security Minister said the generous donation will support the government's 5-point plan for tackling crime.
He said it will particularly assist in the effective deployment of ranks, improve communication and will reduce the government's need to spend money on the acquisition of assets and equipment.
"The donation is welcomed as it will help with the deployment of neighborhood and communities… I wish to place on record the government's deep appreciation for this donation as it is a manifestation of the warm and cordial relationship between the two countries," Harmon said.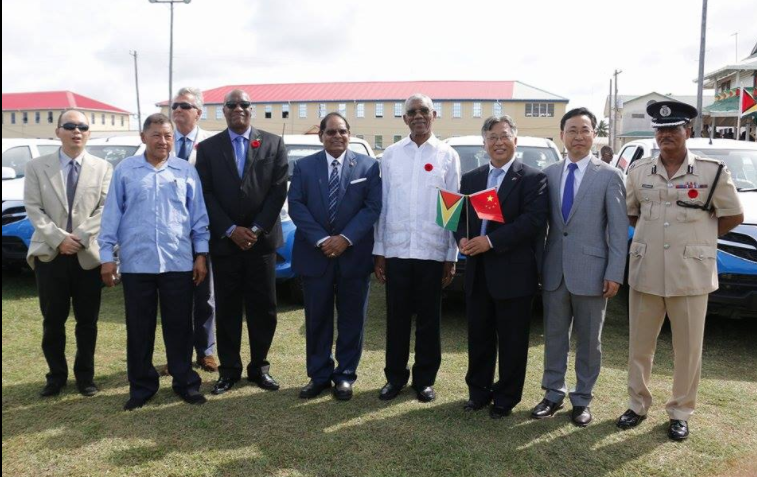 He assured of scrupulous accountability of assets through regular inspection before handing the platform over to Chinese Ambassador to Guyana Cui Jianchun.
Mr. Cui echoed similar sentiments as he placed emphasis on the good relations Guyana and China share.
The Ambassador said this donation is a good example of the relationship the two states share as he pointed out that Guyana's challenge of shortage of resources was a challenged faced by other countries.
As such, China is happy to provide Guyana with this level of resource, the Ambassador noted.