With Senior Police Officers paying keen attention, President David Granger used his address to the opening of the annual Police Officers' Conference to make clear his dissatisfaction with the way the Force is addressing corruption among its ranks.
The President told those gathered that corruption must be tackled from the very top and throughout the Force, making it clear that "if corruption is concealed, it will continue".
He noted that it cannot be addressed by transfers, promotions or demotions, but must be tackled head on, hinting that he believes the Force should weed out corrupt officers completely.
The President spoke of recent statements about the need for a counter force to be formed under the previous government to aid in tackling the crime problem then.  He said it would be good to know who were the major players giving instructions to the counter Force.
"Human safety and public security can be guaranteed only by a Force that is officered by persons who are competent, committed, and uncorrupted. No Government anywhere, could countenance the employment of encourageable officers and expect that law and order would be maintained", Mr. Granger noted.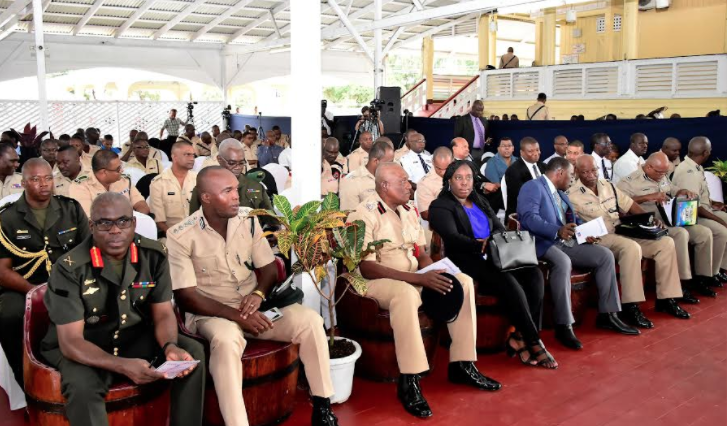 He said crime is the greatest impediment to human safety and economic prosperity of Guyana, noting that "crime must be curtailed if the people are going to be safe and if the state is secured."
The President added that with the Security Sector Reform Programme ongoing, the Government will tackle any effort to thwart the reform of the security sector. "Security sector reform is being reintroduced with the aim of providing increased security for our citizens, by reforming the Force by allowing it to become increasingly capable of crime fighting and law enforcement".
For that to successfully happen, the President said there must be public trust and the members of the public must have confidence in the Police.
"My Government will resist any attempt in any quarter to reverse, retard, or to thwart the reforms on which we are embarking. Security reform is not a recent invention in this administration, the need became especially during the period of intense criminal violence".
President Granger said his tough talk is not a lash out at the Police Force but its an attack on crime.
The Police Conference wraps up on Saturday.