With businesses in Guyana still dealing with the financial effects of the COVID-19 pandemic, City Mayor Ubraj Narine indicated today that the problem has a rippling effect that has reached City Hall.
During a press conference at City Hall this afternoon, Mayor Narine said the municipality has seen a decline in its revenue earnings by a whopping 78% and it has left the already cash-strapped Council struggling financially.
"Our revenue dropped here about 78%, we are actually struggling to pay staff. Our salary and wages scale is $120 Million a month, close to that. We owe NIS $400 Million and that is since 1993, I was three years old, I'm dealing with that issue now. And the GPL matter that the Minister of Works spoke about, we finished the assessment and it seems like GPL may have to pay us too when we look at their properties and taxes", the Mayor said.
Many businesses across the city were closed for a number of months during a partial lockdown in the early days of the pandemic. While many have reopened their doors, they have been forced to scale down their operations as the spending power by shoppers is simply not there.
The Mayor said with the slowdown in business activities and earnings by the municipality, the City Council has been forced to curtail many of its plans for this year.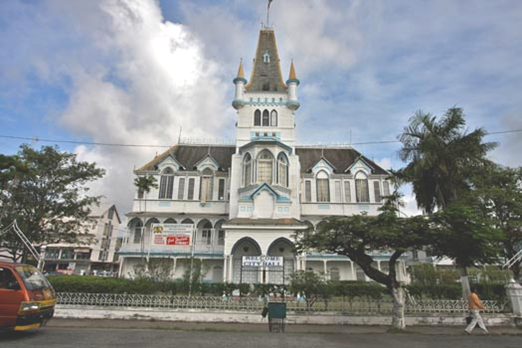 "COVID-19 has carried an impact on this Council, a tremendous impact and some things we cannot do, the plan that we had for this year, as Mayor and Councillors, we couldn't execute it, because the money is not there. The little bit money you actually have is to pay staff and to do other works, which are necessary like the Constabulary that we owe retroactive payments and I promise that I will try my best to pay them" he said.  
The Mayor said he has written to the Central Government seeking help, but there has been no response so far.
"There is much more to deal with COVID-19 in the City, much, much more and we are not getting any help from the government, I wrote several letters and they asked for a breakdown, I sent the breakdown about two times, I sent all of that and several letters to the Honorable Minister, Mr Nigel Dharamlall. I visited the Prime Minister recently. I issued a press release about hampers in the city because I visited people in areas, don't have work. They are not working and its tough", the Mayor pleaded.
He said the Government should play its part by assisting the City Council since now is not the time to focus on politics when people are facing hardships.
The Minister of Local Government in a recent interview said there must be a full audit of the Georgetown City Council before any bailout by the Government is considered.