Panamanian flag carrier, Copa Airlines which will begin its Guyana service in July of this year has started to promote Destination Guyana as a tourism spot for its many travellers.
On the airline's website it has created a Guyana page which showcases various places to visit in Guyana, places to stay and fun activities to attend. The Georgetown guide can be found at the url: http://destinationsguide.copaair.com/en/GEO/  It point to attractions, hotels, restaurants and shopping. The site is available in both English and Spanish .
And the airline will soon begin interviewing prospective Guyanese employees. It has started to receive applications from Guyanese for several positions it will create locally. According to the airline, the response so far has been overwhelming. The Airline started advertising for several positions last month as part of its preparations to begin service to Guyana from July 11th 2014.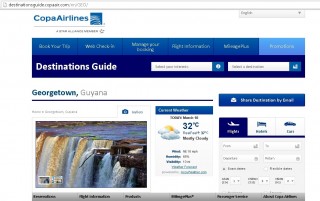 According to airline executives, several positions are to be created locally including Sales Manager, Airport Supervisors, Sales Executives, Inside Sales Representatives and Sales counter agents. The company expects to conclude the selection process by the end of March and so far the response has been very promising. Once the hiring process has been concluded, the airline will begin its training process with the selected staff.
Copa Airlines announced in January its intention to begin operating two weekly flights out of Guyana in July. The flights will link Guyana to Copa's Hub of the Americas at Tocumen International Airport in Panama, thus increasing travel options and improving connections throughout Copa Airlines' extensive route network. Additionally the airline expects that this will allow Guyanese passengers easier access to 69 destinations in 30 countries while opening the country's tourism products to more markets.
In January, Guyana's Minister of Tourism, Industry and Commerce, Honourable Irfaan Ali said "we will be working closely with Copa and the travel trade to maximize the opportunity this partnership offers", and  emphasized that Government of Guyana welcomes "the introduction of this reputable air carrier" as a "very important development for our tourism sector that brings with it tremendous benefits, as it provides a gateway for our guests to connect between Guyana and South America and with other destinations on Copa."
The new route promises to be more efficient while providing quicker access to destinations in North, South and Central America and the Caribbean.