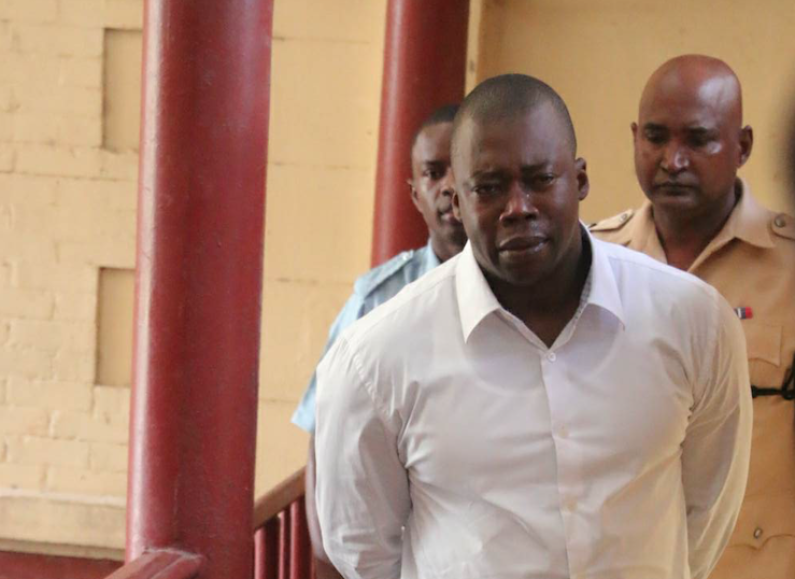 Shackled by the hands and feet, Guyana Defence Force Captain, Orwain Sandy cried uncontrollably as he arrived at the Georgetown Magistrates' Court to face a murder charge related to the shooting death of his reputed wife, Reona Payne.
He appeared before Principal Magistrate Judy Latchman and trembled as he was asked to gave his name. He was not required to enter a plea to the indictable charge of murder. The Court was told that last Saturday in Alexander village Georgetown, he shot and killed Reona Payne.
The man's Attorney, James Bond, told the Court that his client has mental health issues and has been visiting local doctors for over two years. He asked that the Court allow a psychiatric evaluation to be done. The Court granted that request and that evaluation is expected to be done by a Government psychiatrist and an independent psychiatrist.
Sandy never stopped crying throughout his court appearance. He was remanded to jail until the 24th of April when the matter will come up again. A number of his colleagues from the Guyana Defence Force were at the Court house in plain clothes and some of them broke down in tears on the sight of the shackled GDF Captain who has since been interdicted from duty. Family members were also in Court.
After the appearance, Attorney James Bond said his client is deeply saddened by what took place. He said the man remains in deep shock.
The Attorney also asked that members of the public be responsible with the statements they make on social media about the case and incident since a young woman is dead and families are in mourning.
Travel agent Reona Payne and Orwain Sandy shared a relationship for a number of years after leaving their previous marriages.
It was last Saturday that gunshots rang out in the Alexander village area as the two were arguing outside of their car. The woman was reportedly shot fourteen times to the body. A number of persons who live in the area witnessed the incident and were left in shock.
After shooting the woman dead, Sandy drove to the nearby Police station and surrendered to investigators and also turned over his weapon.