A prayer breakfast this morning brought together President David Granger, several ministers of government and well-wishers. The aim was to welcome home Prime Minister Moses Nagamootoo who returned today after recuperating in the United States (US) following a successful heart bypass surgery
PM Nagamootoo, accompanied by his wife, Mrs. Sita Nagamootoo and his eldest daughter, Maria Nagamootoo, arrived at the Cheddi Jagan International Airport (CJIA) at 07:10hrs this morning.
Hosted at the PM's residence, the prayer breakfast was attended by President David Granger, First Lady Mrs. Sandra Granger, Minister of Social Protection, Amna Ally, Minister of Public Security, Khemraj Ramjattan and Minister of Natural Resources Raphael Trotman, family, and friends.
The government ministers, all expressed pleasure at the PM's return and recommitted to ensuring that his health and well-being are a top priority for the government.
Minister Ally said, "Prime Minister, I want to say to you, that you have to take it one day at a time, we love you, we treasure you and we want to have you for a long, long time."
Minister Khemraj noted that the Prime Minister's expertise and sharing of experiences were greatly missed while he was away. "The advantages of having you in our midst and the fact of having your remarks at Cabinet, Parliament, the AFC meetings and security meetings among others."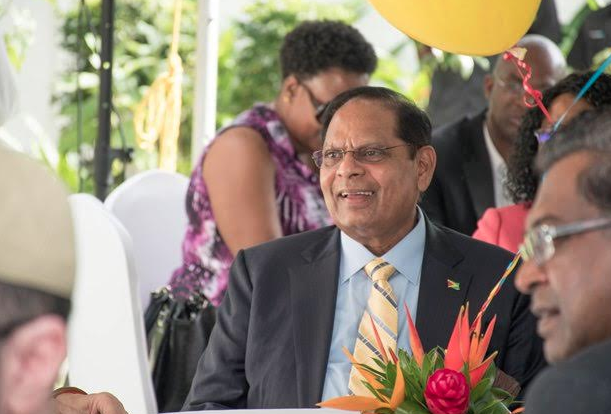 In his remarks, Minister Trotman said "we look forward to your presence in the house and we say to your wife and family, thank you for taking care of him, thank you for bringing him home to us and we will not fail you. We have a duty to take care of him and we will not let you down and we will not fail you, Sir."
Prayers were offered up for the PM and family by Reverend, John O. Smith, Shayk Moeenul Hack, and Pandit Chateram Pooran.
Meanwhile, at today's post-Cabinet Press briefing, Minister of State, Joseph Harmon reported that the Prime Minister has resumed duty. Minister Harmon assured that the Prime Minister was kept abreast of "things that were happening in the country" and was also briefed on matters relating to this ministry.
In February, a routine medical examination was done in Guyana which revealed that the Prime Minister had some cardiac issues and had to undergo the heart bypass surgery at a medical institution in the US. Following the successful surgery, he remained in the US at his family's residence during his recovery process. -DPI-