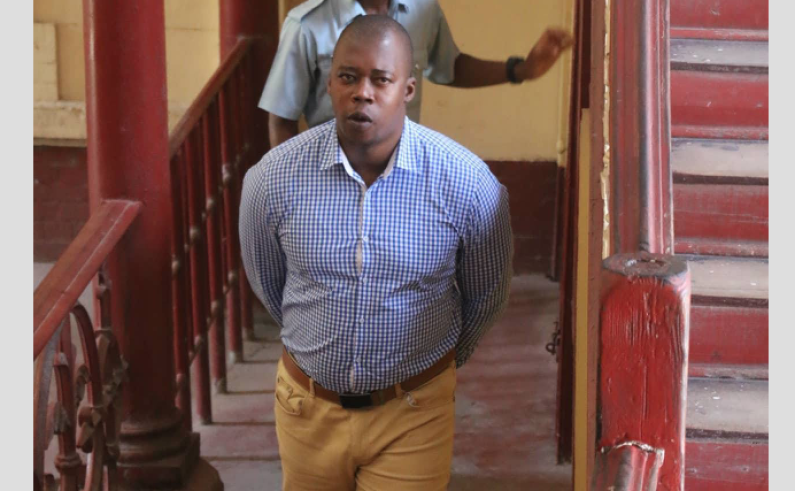 The interdicted Guyana Defence Force Officer, Orwain Sandy, who is accused of shooting his reputed wife to death, has been committed to stand a High Court trial before a Judge and Jury.
Principal Magistrate, Judy Latchman, today ruled that a good enough case has been made out against the accused over the murder of Reona Payne.
The woman was gunned down in Alexander Village on April 1 while the two were involved in an argument.
In handing down her decision today, Magistrate Latchman told the Court that she believes sufficient evidence has been produced by the Prosecution to present a strong case to a Judge and Jury.
During the course of the preliminary inquiry, the man's Attorneys had requested a psychiatric evaluation. That evaluation was done and Psychiatrist, Dr. Bhiro Harry in his report said the man is fit to stand trial for his reputed wife's murder.
In the report, the Psychiatrist also pointed out that the military officer was quiet and cooperative throughout the evaluation, although tearful in many instances.
According to sources familiar with the report, it was also pointed out in the report that Sandy referred to having suffered from nervous problems as a child, but has no history of any mental issue and had never received any treatment for any mental disorder.
He answered several questions about the murder and reportedly claimed that "a force" was responsible for it, while admitting that he sometimes does things on sudden impulse.
The shooting death of travel agent, Reona Payne, sent shockwaves across the country.
The woman was gunned down with several eyewitnesses nearby. She was shot fourteen times to the body, including once to the head.
Just after the shooting, Sandy drove himself to a Police station and surrendered.
He also handed over the murder weapon, which was a gun that had been issued to him by the military.
The two had reportedly been experiencing turbulent times in their relationship and the woman had complained to friends about him being abusive towards her.
He remains in custody.