Over 200 Cuban nationals have been left stranded at the Cheddi Jagan International Airport, Timehri, following a decision by the Guyana Civil Aviation Authority to suspend the operations of Honduran Airline, Easy Sky.
The suspension of the airline which provides a charter service took effect last Thursday evening.
Director General of the Civil Aviation Authority, Lt. Col. (Rtd.) Egbert Field, told News Source in an interview on Monday evening that the decision was made to suspend the operations of the airline over several safety concerns.
"The weight and balance of the aircraft appeared to be in question and that could have cause serious safety repercussions", the Director General said.
He explained that Inspectors from the Civil Aviation Authority were monitoring the aircraft's operations and it was realized that the aircraft was using up more runway space for takeoff than what was required for the specific type of aircraft.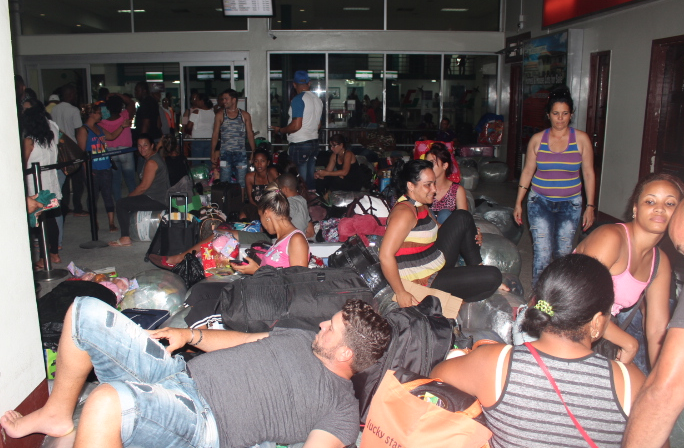 It is suspected that the airline may have been allowing the overload of the plane for the flights to Cuba via Honduras
Mr. Field said the GCAA has issued its findings to the airline and the officials of the airline arrived in Guyana today and spent the day meeting with the inspectors and other officials of the local aviation authority.
The GCAA Director General said once the issues of concern are addressed and the safety deficiencies are addressed, the suspension of the airline's operations would be reexamined.
However, he said that any lifting of the suspension at this time would be to get the stranded passengers out and not to allow additional flights coming into Guyana.
"Their management team flew in yesterday and met with the Authority this morning and they are at the moment receiving the corrective actions which are cause for documentation", he said.
The Cuban nationals usually come to Guyana to do shopping and would have several large bundles of cargo to take back with them.
News Source understands that concern was first raised just over a week ago, when officials at the Cheddi Jagan Airport observed the unusual take off of the aircraft beyond the area that planes of that specific type would utilize. The airline uses a Boeing 737 aircraft for the Guyana operations.
Many of the passengers, through an interpreter, said no representative from the airline has been meeting with them. One passenger said they have not been offered any accommodation or meals by the airline or its representatives in Guyana and have been left at the airport "feeling like dogs". She said they are hardworking merchants and believe the airline should have been explaining the situation better to them.
Roraima Airways is the local representative company for EasySky.