From the crack of dawn, members of Guyana's Disciplined Services were in line to cast their ballots for the national and regional elections on Saturday morning.
At Police Headquarters, Eve Leary, the line of police officers stretched to the road as they turned out in their numbers to vote. Over at the Guyana Defence Force Headquarters, members of the military could also be seen in line casting their ballots.
Many of the servicemen and women described the process as smooth and hassle free. At the Police headquarters, a number of polling stations were set up at various points to accommodate the voting officers.
One officer told News Source that he travelled out from his interior location to ensure he cast his ballot. He said he was not going to miss the elections.
Another young officer explained to News Source that "we have to take the lead in exercising our franchise and so we came out early and I called some squaddies to ensure they are out early too. Vote then go enjoy your day, that's the way we doing it and that's the way the rest of the country should do it on May 11."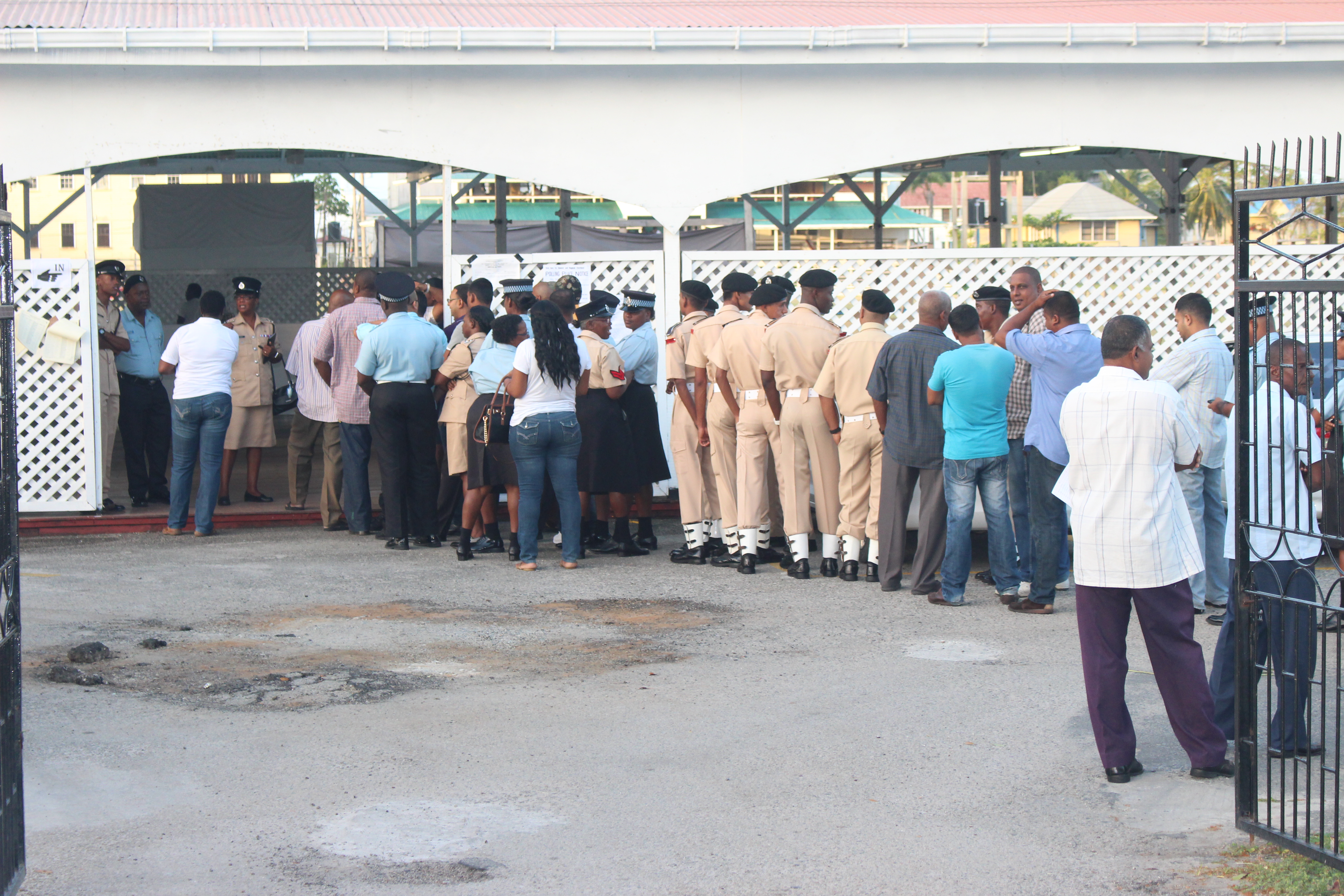 Commissioner at the Guyana Elections Commission, Charles Corbin was spotted at the Police Headquarters observing the opening of the polls. He said the opening went smoothly and on time. Voting started at 6am and will close at 6pm.
The Guyana Elections Commission extracted a total 7,452 persons from the Official List of Elections as eligible servicemen and women who to vote.
The identified disciplined service members are casting their ballots at some 84 locations across Guyana ahead of the May 11 national elections.
Chief Elections Officer, Kieth Lowenfield on Wednesday assured that the extraction of the names of discipline service member's form the OLE was very transparent and was conducted in the presence of agents from contesting political parties.
Members of the Guyana Police Force and the Defence Force and other law enforcement agencies usually vote ahead of 'E' Day as they are required to maintain law and order prior to, during and after the elections.
Lowenfield assured that all votes cast on Saturday Day will be intermixed, as the law prescribes, and counted with ballots cast on 'E' Day.
He explained that even if a soldier is stationed in a different district from where he resides and cast his ballot in that district, his/her vote will be intermixed in the district where he/she ordinary resides and counted. In past elections votes cast on 'D' Day were counted separately from that cast on 'E' Day.
The number of joint service members is a small percentage when compared to a total of  570,787 eligible voters but the two main political parties have nonetheless placed emphasis on trying to secure these votes.
Earlier this week, President Donald Ramotar penned a campaign letter to the Guyana Defence Force appealing to ranks to vote for the ruling People's Progressive Party Civic when they head to the polls on May 2.
Ramotar in the letter addressed to senior, junior and other ranks asked that they consider the "strides" Guyana has made and how those strides has impacted their individual families as they prepare to cast their ballot.
"I ask you in all humility to once again repose your confidence in the PPP/C by re – electing me, Donald Ramotar when you cast your very important vote," he said.
The ruling party over the last weeks has criticized retired members of the GDF and police force who have supported and endorsed its main opponent in this election, the APNU+AFC Coalition.
Former President Bharrat Jagdeo even warned supporters by telling them if the APNU+AFC is elected, members of the military would kick down their doors.
Presidential Candidate of the APNU+AFC Coalition, retired Brigadier David Granger, urged members of the Disciplined Forces to support his party.
On Friday, Granger penned a full page advertisement letter to his "fellow service men and service women", reminding them of the security crisis that has been facing the country over the past years under the People's Progressive Party, and encouraging them to vote for change.
Mr. Granger wrote that "Guyana has been suffering from the most severe and sustained security crisis in its history over the past fifteen years during the presidencies of Bharrat Jagdeo and Donald Ramotar".
The Presidential Candidate pointed out that the Guyana Police Force and the Guyana Defence Force which should help in making Guyana safe, have been left under-resourced, under-funded, and  under-equipped by the governing party. He said the combined cost of crime and incompetence has taken a toll on everyone's quality of life in the country.
According to Mr. Granger, Guyana no longer needs to suffer from criminal violence and or endure vulgar insults to its servicemen and women by PPP officials.
"I pledge therefore, that an APNU+AFC coalition under my presidency will increase your pay to liveable levels and improve your condition of service".