A woman who lives on Durban Street, Lodge was this morning charged and remanded to prison after she attempted to smuggle marijuana into the Camp Street jail to her reputed husband, who is on remand for murder.
Thirty-year-old Nicola Clarke appeared in Court this morning and pleaded not guilty to the charges possession of marijuana and attempting to smuggle illegal items into the jailhouse.
The charge stated that on the 17th April, at the Camp Street Prison, the woman had 325 grams of marijuana for the purpose of trafficking.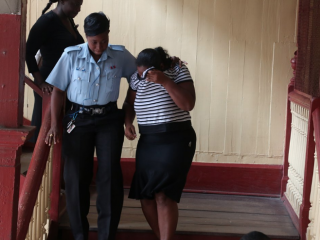 The Police Prosecutor in a statement to Court said that the accused went to prison to visit her reputed husband and acting on information, Police investigators went to the area where the woman was found sitting.
A search was carried out and the illegal substance was found in two food boxes stashed under the food that she was taking for the reputed husband.
Police also found tobacco leaves in two packs of corn curls.
Bail was refused and the woman was remanded to jail until May 30th.