Hit with several bumps in its take off into the Guyana and New York schedule market, the North Carolina based, Dynamic Airways has decided to temporarily halt its operations between the two destinations. The three-week suspension is expected to allow the airline enough time to regroup and get all systems in place for long-term operations.
In a letter to travel agents, the airline said "due to operational difficulties with securing time slots at JFK Airport for the month of July, we are announcing Dynamic Airways will operate flights on July 8, July 11th and July 15th and transport passengers which already started their travel. We are currently protecting all passengers which started their travel and are impacted by this temporary suspension".
According to the note sent to the travel agents, all other passengers traveling in the period July 17th – August 8th, will receive full refund plus compensatory voucher for future purchase on Dynamic Airways network. The airline said all passengers will be contacted by Dynamic Airways directly or by their respective travel agents.
"The temporary suspension will allow us to secure time slots at JFK Airport, organise better ground handling and check in process as well as secure schedule integrity which Dynamic Airways is well-known for", the notice added.
The airline said all flights starting from August 8th "are not impacted" by the change and will be operated as displayed on the company's website and in its reservation system.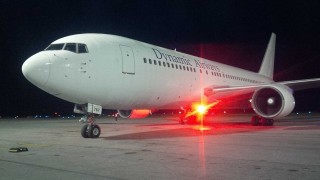 Dynamic Airways said it is very sorry for the inconvenience the change might have caused. The airline began offering a scheduled service in June between
New York and Georgetown as part of a partnership with the local Roraima Airways. However, from the very first day of its operations, the company faced major challenges as it was not granted full approval for operations into the JFK Airport in New York city.
Passengers were forced to utilise a bus shuttle service between the JFK Airport and airports in Atlantic City, New Jersey and Connecticut to board their flights to Guyana. The flights from Georgetown would also fly to those out of state airports and passengers would then be shuttled by bus for close to three hours to the JFK Airport where they would be met by relatives in New York.
Over the weekend, Dynamic passengers were delayed in Miami when the airline stopped at the Miami Airport on its New York run and passengers were forced to wait over twelve hours for a connecting flight. That connecting flight flew them into New York from Miami as a domestic flight. The airline claimed that it was forced to stop in Miami because of a storm but  was not met with ground handling and fuel agents and that delayed its departure from New York as the crew went past their flying time.
Last week, Managing Director of Roraima Airways, Captain Gerry Gouveia admitted that the airline's start-up was done with too much haste. He however, reassured that the airline was "here to stay" and the bumps in its start-up would be overcome with time.
Captain Gouveia also shared documents showing that the airline had been given the clearance to operate at New York's JFK Airport, but that approval was tied to several other approvals that the airline would need to have granted before its schedule service could go into full operations.
The airline has launched a massive marketing programme promoting Destination Guyana and has even signed on as the official airline of the upcoming Guyana Festival, which takes place in Guyana in August. It intended to take advantage of the busy summer travel season.