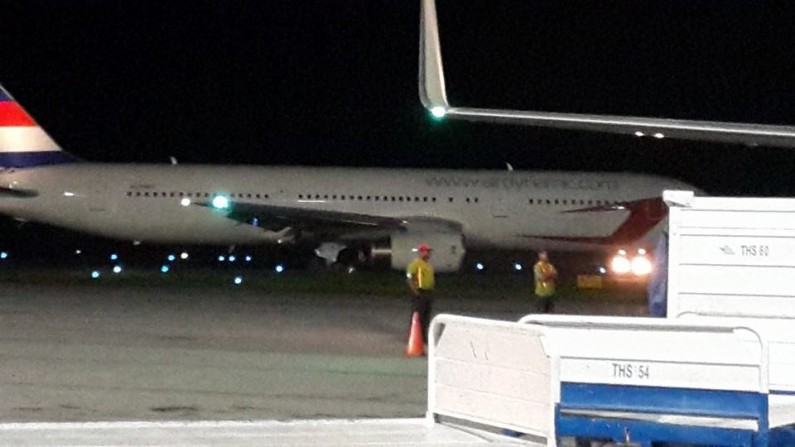 A Dynamic Airways flight to New York from Georgetown, Guyana was cancelled on Sunday night after the 767 aircraft veered off the runway and got stuck in mud during its taxi to take off from the Cheddi Jagan International Airport.
Passengers were forced to leave the aircraft after it had to be pulled from the mud and towed to its parking position. The passengers are being accommodated at city hotels.
There are no reports of injury. Airport sources have indicated that from all appearances the pilot may have "mistaken the plane's position" on the runway and ended up in a grassy area to the side of the runway during the taxiing of the aircraft.
Once the aircraft had been pulled from the mud and towed to its gate position, passengers were informed of the mishap and told of a decision to cancel the flight.
It is expected that maintenance engineers will have to examine the aircraft before it be allowed to go back into operation. It's unclear whether the carrier has maintenance engineers in Guyana. If not, they would have to be flown in from the United States.
Airline officials could not be reached for a comment.
Dynamic Airways is a North Carolina based airline. The airline re-launched its service to Guyana from New York just over a week ago. Since that re-launch, the carrier has been plagued with long delays in and out of Guyana.
Saturday's flight from New York was delayed by more than 24 hours. That resulted in the same delays in Guyana.
Earlier this year, the airline was forced to suspend its service to Guyana after US Authorities did not grant full approval for its operations. That suspension lasted for over three months.
Dynamic announced its return to Guyana in late October, after it said all approvals had been granted by the US Authorities.
The Guyana Civil Aviation Authority followed the lead of the US Authorities and granted the carrier permission to operate a non schedule service from Guyana.
A probe into the Sunday night incident is expected to be launched by the Guyana Civil Aviation Authority.
Filed: 1st December, 2014