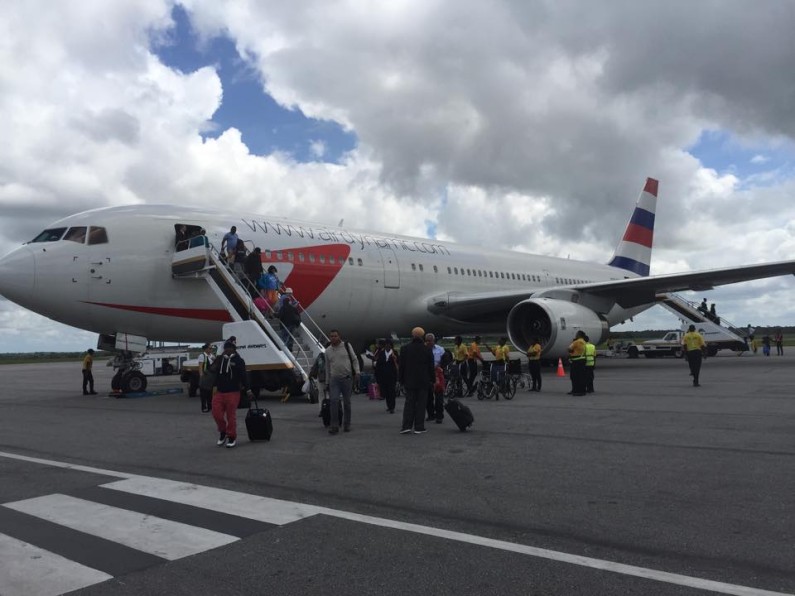 US based airline Dynamic Airways has hired the services of Tagman Media Public Relations company in an effort to boost its image following a number of delays and problems since it restarted its service between Georgetown and New York last week.
Tagman Media in a statement on Monday evening reported that the airline is looking to improve its performance on the Guyana route.  Passengers have been complaining about the long delays since the carrier restarted its service. On Saturday, passengers coming in from New York were delayed for over 24 hours.
On Sunday when the aircraft was getting ready to depart for New York, it veered off the runway during its taxi and got stuck in a muddy grass area next to the runway.
According to Tagman,  the Dynamic Airways' Boeing 767 aircraft departed the Cheddi Jagan International Airport (CJIA) on schedule on Monday afternoon. The PR company said  the flight which was previously scheduled to depart on Sunday night for the John F. Kennedy International Airport (JFK) New York was rescheduled following an incident on the taxiway at CJIA.
"Dynamic Airways regrets this incident. While recent delays have affected passenger schedules, Dynamic Airways is grateful for the faith being demonstrated by passengers who continue to book flights on the New York-Georgetown route", the statement said.
Earlier this year, the airline was forced to suspend its service to Guyana after US Authorities did not grant full approval for its operations. That suspension lasted for over three months.
Dynamic announced its return to Guyana in late October, after it said all approvals had been granted by the US Authorities.
The Guyana Civil Aviation Authority followed the lead of the US Authorities and granted the carrier permission to operate a non schedule service from Guyana.
A probe into the Sunday night incident is expected to be launched by the Guyana Civil Aviation Authority.
Filed: 2nd December, 2014