The ExxonMobil company today expressed strong objections to claims by at least one Opposition Member of Parliament in Guyana that the US Oil Company was funding a political initiative of the Government that has not been approved by the National Assembly.
During the Company's appearance before the Parliamentary Sectoral Natural Resources Committee, PPP MP Pauline Sukhai accused the company of funding and supporting the Government's Green State Development Strategy.
Drawing attention to the new collaboration established between the ExxonMobil Foundation and Conservation International, Sukhai reasoned that while Government is yet include its Green State Development strategy in a policy document and submit it to the Assembly for discussion, Exxon is now supporting the initiative.
But without allowing the MP to proceed with her line of questioning, Exxon Country Manager Rod Henson interrupted the Opposition MP to point out that her claims were absolutely false.
"Sorry but let me stop you right there. Exxon is not involved in politics. We are A-political and we are not funding any political initiatives, full stop," Henson said.
In a swift and sharp response Sukhai said; "You may want to stop me but you have to stop the concern in the public domain."
To that Henson responded; "We can't control every individual's thoughts and opinions."
The Country Manager was stern that its collaboration with Conservation International which also includes the University of Guyana was in no an expression of support of any political initiative.
In a statement published on Exxon's website the company explained that "the investment is also intended to support Guyana's Green State Development Plan, the country's 15-year development plan that aims, among other things, to diversify Guyana's economy and balance economic growth with the sustainable management and conservation of the country's ecosystems. The ExxonMobil Foundation will provide the investment over five years."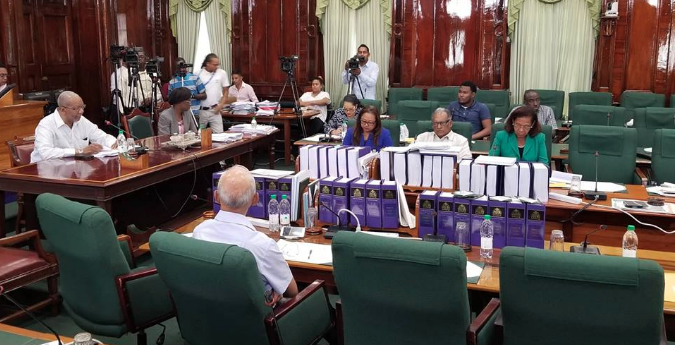 The program for which Exxon has already invested US$10 million is to advance Guyana's sustainable economy through investments in education, research, sustainable management and conservation of the country's vast ecosystems.
Exxon was pressed further by the Committee Chair to provide answers on whether it considered he collaboration a conflict of interest since CI is seen as a global watchdog for environmental protection and conservation.
Henson responded to point out that while the Government was made aware of the collaboration it is essentially an initiative.
"I disagree with you and I think Conservation International would disagree too, I am not aware it has a role as only a watchdog," the Country Manager posited.
He said the collaboration is to help capacity building in Guyana, geared specifically at diversifying the economy.
(by Kurt Campbell)