The early morning accident at Friendship, East Bank Demerara that claimed the lives of five persons has shattered three families and left them in disbelief.
The five dead persons have been identified as husband and wife, Herbert and Denise Josiah, Special Constable Lavern Stoby, Leon Tucker and Ronnel Barker.
The accident occurred when a speeding Police car with its emergency lights on slammed into the other car which was heading in the opposite direction. The fatal crash occurred just before 6 am and not many other vehicles were on the roadway at the time.
The force of the impact sent the Police car diving into a nearby trench while the front of the other car was completely smashed in with most of its occupants being flung onto the roadway.
The son of Special Constable Lavern Stoby said his mother was a nice person who was liked by everyone. He explained that she was on her way to work when she accepted a ride to the city from her nephew who was the driver of the car. They all lived along the East Bank corridor.
"Anything you could have gotten from her. Anybody would come and she would help them out at any time", the grieving son recalled.
A relative of Herbert Josiah said the death will be hard for the family to accept. She said Herbert was a loving man who always looked out for his family and children and he will be sadly missed.
Some other relatives were too torn at the tragic news to speak to the media. Family members said they will now have to begin the sorrowful task of looking at the funeral arrangements for the deceased.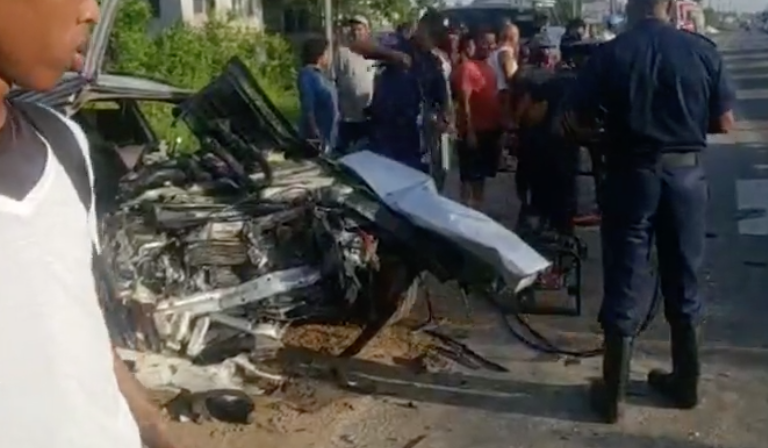 President David Granger, who visited the scene of the accident, expressed his sympathy to family members in a statement.
His office also reported that contrary to reports in other sections of the media, the Police vehicle that was involved in the accident, was not part of the President's convoy.
The release stated that the President was at another location along the East Bank corridor at the time of the accident. He visited the scene after learning of the deadly crash.
The Guyana Police Force has launched a full investigation into the tragedy.